Corey Feldman: 'Hollywood Used And Abused Corey Haim'

Corey Feldman has blamed Hollywood for turning its back on his tragic best friend Corey Haim after he was no longer a cute child star. The 38-year-old "Lost Boys" actor was discovered unresponsive at his mom's California home on Wednesday and was pronounced dead upon arrival at St Joseph's hospital in Burbank.

Feldman was devastated by the tragic news - and while he's touched by the celebrity tributes that have come pouring in, he's upset none of the stars reached out to his pal during his times of need.

In an interview with Larry King, Feldman says, "Where were all these people the last 10 years? Where were all these people to lend a hand-out, to reach out to him and say, 'You're a legend, you're an amazingly talented wonderful person who's never really gone out of his way to hurt anyone, other than himself?' In this entertainment industry, in Hollywood, we build people up as children, we put them on pedestals, and then, when we decide they're not marketable anymore, we walk away from them."

Both actors battled substance abuse, but while the "Stand By Me" star managed to overcome his addictions, Haim struggled to get sober - and even when he did, Feldman claims "there was no one there to pull him up."

However, he hopes his pal will be given the memorial he deserves, adding, "(Haim's relatives) want to plan a sizable memorial. I would like to see Hollywood pay their respects. Hopefully he's going to be remembered as a beautiful, funny, enigmatic character who brought nothing but life and lights and entertainment and art to all of our lives."

And Haim's ex-girlfriend, former "Baywatch" actress Nicole Eggert, is pleased the troubled star's fans will remember him in a positive light. She adds, "I've heard so many people make statements. It is so nice that people are going to remember him this way, because for the past few years, I have just heard snarky remarks and people more making jokes and, you know, not giving him any credibility. So today was kind of nice, but a little late, you know."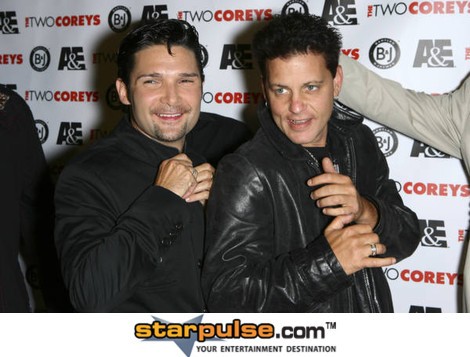 Click Here For More Corey Feldman Pictures