Corey Eldman Sued For Festival No-Show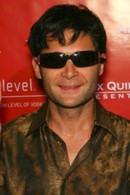 Actor Corey Feldman has been ordered to pay up after failing to appear at a horror film festival last year.

The Goonies star accepted a $5,000 advance after agreeing to attend Pennsylvania's 2010 Eerie Horror Film Festival.

Organizers sued Feldman after he missed the event and now a judge has ruled in their favor, reports TMZ.com.

Feldman must now hand over $8,149 for the show fee, legal costs and interest.