Zooey Deschanel Talks Her Show 'New Girl,' Becoming An Aunt & More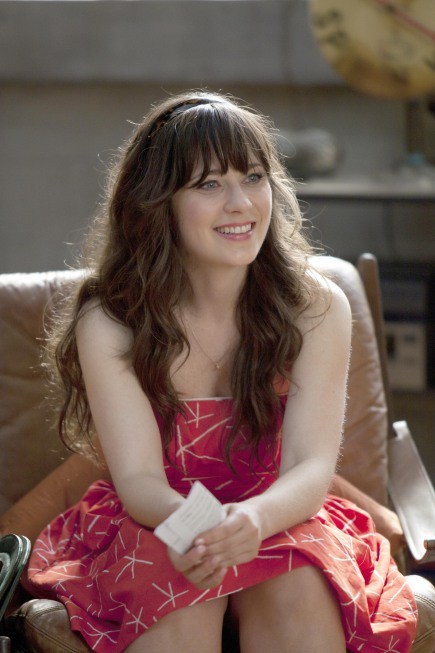 Zooey Deschanel charmed the Television Critics Association this summer when she presented her new show, New Girl. The indie movie sweetheart was already a favorite from roles in (500) Days of Summer and Almost Famous, but seeing her be goofy in clips from the show and in person could not have been more endearing.
On New Girl, Deschanel plays Jess, a girl who moves into an apartment with three men after catching her boyfriend cheating. She copes with rejection and dating again by dancing, singing her own theme song and crying to the DVD of Dirty Dancing. New Girl premieres Sept. 20 on Fox.
Q: Do you have guys like this, guy friends you're really close with?
ZD: Well, I have a lot of guy friends and I go on tour as a musician with a lot of guys, so I've been on a tour bus which is even smaller with a lotta guys.
Q: Does this show inspire music?
ZD: Well, I've always had a really great time being on movies and writing music when I get home because the more creative I am, I think the more it feeds into other creative aspects of my life.
Q: What was the decision to do a TV show at this point in your career?
ZD: I just loved this material. I felt like this is a character I could feel really good about doing for a long time.
Q: Was there a moment reading the script you thought that?
ZD: I think it was page one. It was really special from the beginning of the script. It really was.
Q: What's the closest frame of reference you have to this character?
ZD: Myself. My 13-year-old self.
Q: What was she like?
ZD: Just very open, loves to sing, very kind of dorky. I just really felt like I was in a musical all the time but I wasn't. So there is a part of me that is very much this character.
Q: Your sister Emily is going to have a baby so you'll be an aunt. Do you want to start your own family too?
ZD: No, I have a show to do. But I'm really excited to be an aunt.
Q: Is Emily going to appear on the show?
ZD: I don't know. It would be cool. She's welcome.
Q: Will you be a babysitter on call?
ZD: Yeah, yeah. I don't know if they'd trust me with a baby, but I think I want to hang out with the baby but I think I would want someone else there as well. I would freak out if something happened to the baby if I was babysitting for her.
Q: What was the hardest part of your journey to get to this point?
ZD: Actually, I think the interesting thing is you really see ups and downs. When you're in yourself, other people think oh, they have a movie out, everyone's paying attention to them. Then they might not see you for a while. When you're experiencing it, you have an up and a down and an up and a down. As far as your career goes, some things hit, some things don't and the day to day of that, I think it took a lot of time for me to realize this is just part of it. There are cycles. You'll have ups and downs in your career. You just do the best you can. Sometimes people will love you and sometimes they won't. That's just part of it.
Q: When you play Jess as awkward, it seems really genuine. What's the line between awkward and fake?
ZD: I'm awkward, so I always feel like if you're playing at something, you're probably [faking it.] You could ask me to describe her and I might say awkward to describe her, but I would never be faking that when I'm playing her. You want all that to come out of the moment.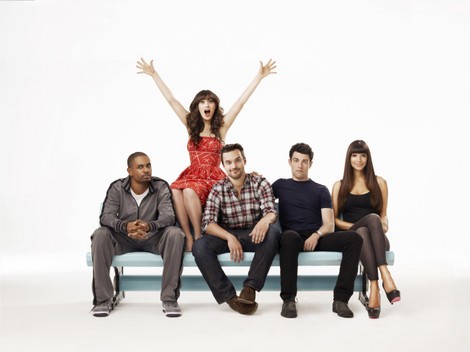 Q: It seems like the character came easily. Was there any challenging part?
ZD: No, I definitely experimented with different ways of playing her, different expressions of some of the moments in the pilot. But we have a really amazing director, Jake Kasdan who did the pilot, who's doing the second and third episodes as well. He's been so instrumental in really helping me find the really right way to most effectively play the character.
Q: Were you a big TV watcher growing up?
ZD: Yeah, I loved The Cosby Show and Roseanne. Cheers, classics.
Q: Could your character ever date a girl?
ZD: I don't know. That wasn't in my mind. It's not out of the realm of possibility.
Q: Do you have a lot of gay fans?
ZD: Yes, I think so, I hope so.
Q: You definitely have a lot of lesbian fans.
ZD: Yayyyy.
Q: How does that make you feel?
ZD: I want all fans. I want to have a perfect microcosm of the world.
Q: What five women are you obsessed with right now?
ZD: That's a lot! I mean, five women! Okay, let's see. I love Tina Fey. Always love Tina Fey. Really, when asked to list things, sometimes I have trouble. Okay, Oprah. I love Oprah. Actually, I started a blog site for women called Hello Giggles. So I'm going to say my two co-founders Molly McAleer and Sophia Rossi who are my dear friends. I'm going to say them and then I'm going to say my mom, and my sister. My sister too. That six, but oh, and my grandma, grandmas.
Q: Will you still be doing music while you're on this show?
ZD: Yes, I just actually made a holiday record.
Q: And that's coming out when?
ZD: At the holiday time. I think probably October. We're really excited about it.
Q: What songs do you do?
ZD: It's a lot of sort of non religious Christmas classics. "Have Yourself a Merry Little Christmas," "Christmas Song."
Q: What's something we don't know about you?
ZD: I have a fantasy baseball team. The Burbank Puppies.
Q: How are they doing?
ZD: They're doing terribly. I'm horrible at it. I really just did it because I thought wrongly that I could beat everyone by turning on autodraft. If you play fantasy sports, you know that autodraft is a thing that you do if you're half assign it. So that's what I did and I just wanted to see if I could win that way, but I'm terrible. I won one really good game and someone made a cake of it with the score. I actually tweeted my cake.
Q: So you're not a sports person?
ZD: Well, I enjoy baseball but I'm not really a sports person. I'm more of a dance for me kind of person. I do dance all for me and they let us do that. They let us do dance for me.
Q: Was it hard for you to take time off of your movie career to do TV?
ZD: No, but I like having a schedule. And I tend to be the type of person, I thrive on a schedule and I thrive on something being regular. So I'm actually really excited because  think I'll write more music. My whole first record, I wrote in the middle of the night when I couldn't sleep and I was doing movies. So I feel like it'll be good.