Zoe Saldana Was Shocked Over Allure Magazine Cover Controversy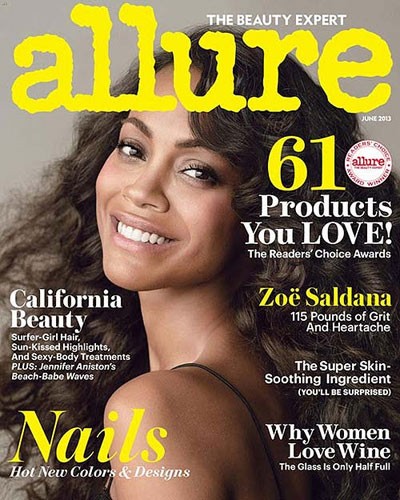 Actress Zoe Saldana says that she was shocked over the backlash from her recent Allure magazine photo shoot and interview -- not because she was naked in one of the shots and topless in another, but because the new issue features the headline, "Zoe Saldana: 115 pounds of grit and heartache" on its cover.

The Star Trek Into Darkness star has come to the defense of the magazine's editors, saying she isn't ashamed of her thin frame.

Readers expressed their concerns that sensationalizing Saldana's actual weight would be bad for young girls who are struggling with body image issues.

"I think that it would have been wrong if they were lying about my weight," she said during an interview on The Today Show. "This is how much I weigh, it's something I can't control, it's who I am, I've always been of a very thin frame - I was a ballet dancer.

"They [editors] wanted to do it, I don't think it was to make an issue of my weight," she says, "I think it was to talk about that, for a light-weight person, I seem to be really strong-minded."

Editors of the magazine also defended their choice, posting on the Allure Facebook page, "The girl is a powerhouse. And we were so impressed by what a tough, confident woman Saldana is (on-screen, in her action-movie roles, and off) that we wanted to capture that."

In addition to her racy photos (see them here) in the issue, she also made some contentious comments about her sexuality, revealing that she's open to raising children with another woman and swearing off men. She considers herself androgynous and may "end up with a woman" raising her children one day.

Zoe also cleared up those comments, telling HollyScoop.com, "It wasn't a generalisation; it was a statement that I strongly stand by. As of today, I've been attracted to the male species, but, if one day I wake up and want to be with a woman, I will do that because it is my life, therefore it is my decision."