Zoe Saldana Nearly Turned Down 'Star Trek' Role After Landing 'Avatar'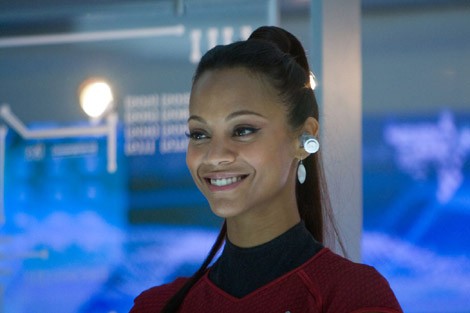 Actress Zoe Saldana says that she nearly turned down the role of Lt. Uhura in J.J. Abrams' reboot of Star Trek.

The star's managers had to convince her not to pass on the project, which the self-professed sci-fi geek initially -- and ironically -- planned to turn down.

"I was afraid... I was very concerned, she tells Latina magazine. "I think I was just a little beside myself because after the treat and the gift of booking Avatar and being in the middle of shooting, to be able to then do another great movie with another great filmmaker back to back - I was a little overwhelmed and I thought: 'Maybe I should just take some time off and focus and just rest?'"

But her management team and her mom's love of the series were enough to convince her to take the role of the Starship Enterprise's communications officer after filming James Cameron's sci-fi epic.

"[M]y mom is a Trekkie, and my team was like, 'Zoe, are you stupid? Don't let fear immobilize you," she adds. "This is an amazing opportunity to step into the shoes of an iconic character in an iconic series and it's in space and you're a sci-fi buff.' And I was like, 'Oh my God, who am I kidding? Absolutely. I'll totally do it.'"

Read Zoe's full interview in the May issue of Latina magazine. She can be seen in this year's sequel to the hit film series, Star Trek Into Darkness, which opens May 17.