Zoe Saldana Is Leggy In A Super Short, Futuristic Ensemble At German 'Star Trek' Premiere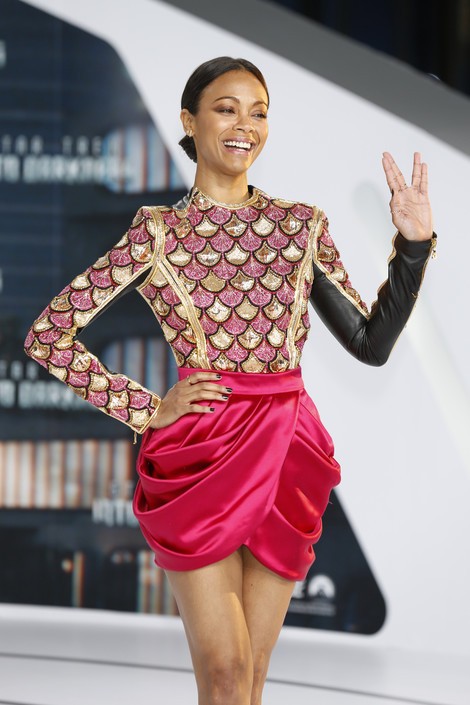 Zoe Saldana attended the "Star Trek Into Darkness" German premiere at Cinestar in Berlin, Germany, on Monday in a flashy pink ensemble.
The actress wore Balmain separates featuring a hot pink ruffled skirt with a shiny, multi-colored seashell patterned top. Saldana looked like she stepped out of the future - quite appropriate considering the movie she's promoting.
She recently admitted she hesitated taking the role of Lt. Uhura in J.J. Abrams' "Star Trek" reboot because she had just appeared in "Avatar" and considered taking a break from working for a while.
She told Latina magazine: "[M]y mom is a Trekkie, and my team was like, 'Zoe, are you stupid? Don't let fear immobilize you. This is an amazing opportunity to step into the shoes of an iconic character in an iconic series and it's in space and you're a sci-fi buff.' And I was like, 'Oh my God, who am I kidding? Absolutely. I'll totally do it.'"
"Star Trek Into Darkness" hits theaters May 17. It centers on Captain Kirk leading a manhunt to a war-zone world to capture a one-man weapon of mass destruction.
Check out more photos of Zoe...