Zoe Saldana: 'I Just Want The Best Filmmakers In The World To Tell Me I'm Legit'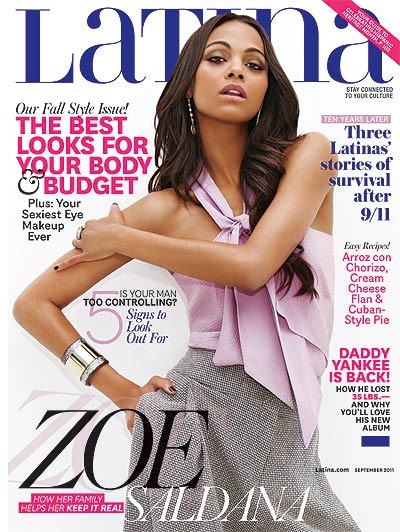 Stunning Afro-Latina actress Zoe Saldana graces the September 2011 cover of Latina magazine's fall style issue, which hits newsstands on August 16th.

The 33-year-old Dominican & Puerto Rican star of this month's Colombiana opens up to Latina about how she nearly had an emotional collapse after catapulting to superstardom with Avatar, the highest-grossing movie of all time, and what helped her stay grounded.

-On dealing with her newfound fame: "The year after Avatar was just emotionally overwhelming. I was traveling all over the world, waking up in different time zones. Your body gets exhausted, and by the end of the year I just collapsed."

-On coming close to a total breakdown: "I was in Paris training for Colombiana, sitting in my hotel room, and I couldn't stop crying. I couldn't stay awake. I must have slept for an entire month. It took me the rest of the year, even as I was working and shooting Colombiana, to pick myself up. Thank God my family was there."

-On the post-Avatar effect: "I just want the best filmmakers in the world to tell me, 'You're good, kid, you're legit.' The recognition will never get old, and I'll never get accustomed to it. I don't ever want to, because that will mean I'm taking it for granted. That's why I work, not for the luxuries or the awards."

-On the simple joys of life: "I just stay at home and do absolutely nothing. When I was younger, that would have made me feel like such a failure. Now that I'm older, I know what it means to shut down. I don't shower if I don't want to. I don't answer e-mails. It's a healthy way of being selfish. You know you're old when gardening, the Food Network and voice notes from your nieces and nephews blow your mind."

-On her small circle of friends: "If you surround yourself with good people, if you're having a bad day – which everyone does – they will protect you, and it will never reach any kind of surface. But if you surround yourself with people who don't really love you and care for you, they'll be the first ones to expose you. That's dangerous."

-On the key to her 12-year relationship with actor Keith Britton: "I think the only reason we've made it this long is because we don't listen to anybody but ourselves. We've still managed to sustain a relationship in a world where half of the people we know are divorcing or going through problems. It's like that song we both love by Frank Sinatra – we did it our way!"


Also in the issue…

* Style Columnist – Pop star Kat De Luna makes her debut with her new column, Kat's Closet, in which she answers fashion questions from real Latinas.
* Ten Years After 9/11 – Three inspirational Latinas share their moving stories of loss, love and survival.
* Is Your Relationship Heading For Trouble Like J.Lo & Marc? – Five red flags you can't ignore.
* Daddy Yankee Is Back! – How the king of reggaeton lost 35 pounds and why you'll love his new album.
* Hispanic Heritage Month – We'll share with you fun, cultural events in your area to celebrate our culture.

All of this and a whole lot more in the new issue of Latina magazine, on newsstands August 16th!