Ziggy Marley To Celebrate Dad's Anniversary With Documentary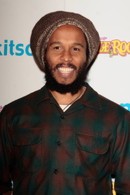 Ziggy Marley is creating a new documentary about his dad Bob to commemorate the 30th anniversary of his death.

The I Shot The Sheriff hit-maker passed away after a long battle with cancer in 1981, and son Ziggy is set to pay tribute to the reggae legend by shooting a personal film to preserve his father's legacy and show fans another side of the singer.

He tells Us Weekly magazine, "We are working on his documentary, which should be out in the fall. I am producing the documentary and Kevin McDonald will direct it."

"People are going to have not only the connection that you have now with the Bob Marley legend, but it will also show the emotional side of our father. The emotion of Bob throughout his life experiences is a pretty pertinent thing."
"It is not just about his music."