Zendaya Coleman & Kellie Pickler Top The 'Dancing With The Stars' Week 2 Leaderboard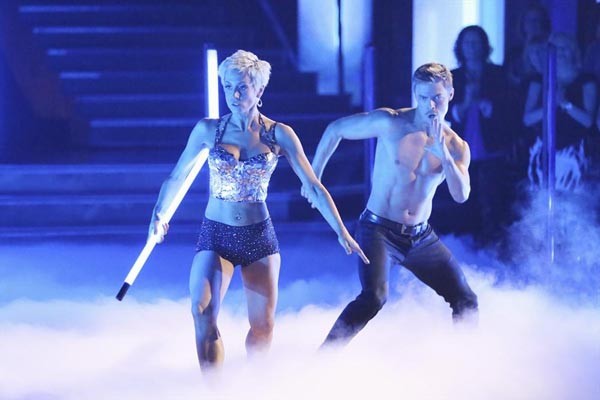 The 12 couples on "Dancing with the Stars" return to the dance floor with new dance styles and routines as they vie for judge's scores and fan votes in an effort to avoid elimination on the first results show of the season Tuesday.
After head judge Len Goodman said that he wanted to see some dancing this week, Ingo and Kym performed a Quickstep that drew smiles from the judge who touted the improved performance on the dance floor.
Fighting injuries, Dorothy and Tristan performed a Jive that the judges called a brave attempt with promise but messy.
Taking on a Jazz Dance, Jacoby and Karina blew Carrie Ann away; Len called full of razzle-dazzle, that Bruno said belonged at the Cotton Club.
Victor and Lindsay performed a Jive that Len said didn't have much going on and Bruno called a runaway train.
Playing cops who entered the dance floor on scooters, Wynonna and Tony performed a Quickstep that Carrie Ann again called safe and told Wynonna to take a chance.
Last week's top scoring couple Zendaya and Valentin performed a Jive that the judges called fantastic. Finding that she likes it at the top of the leader board, Zendaya and Valentin remained atop the list with 50 total points.
Andy and Sharna performed a royal Jazz dance to "Poker Face" by Lady Gaga that brought a laugh from Len. Bruno said the mad hatter had gone gaga and he loved it.
Sean and Peta performed a shark infested Jive that the judges said contained more Lindy and Jitterbug than Jive. Len felt the theme of the dance took over the performance.
Ali and Mark performed a Quickstep that had Carrie Ann proclaiming it the best Quickstep of the night.
Lisa and Gleb performed a Jive that had Carrie Ann cautioning Gleb on the lifts. Len called the performance a bumpy ride and a bit wooden.
Last week D.L. Hughley and partner Cheryl Burke found themselves at the bottom of the leader board with only 12 points; this week the pair was looking for some improvement when they performed a Quickstep. While Bruno noted the dance had a lot of content; all of the judges remarked on D.L's hard work and improvement.
The final performance of the night was a Jazz dance from Kellie and Derek that had the crowd cheering and the judges praising the modern Jazz dance. The performance earned the pair 26 points to tie with Zendaya and Valentin for top honors.
On Tuesday's results show Josh Groban will perform and one couple will be eliminated from the competition.
This week's scores:
Dorothy and Tristan – 15
D.L. and Cheryl - 16
Victor and Lindsay- 18
Wynonna and Tony – 18
Lisa and Gleb - 18
Ingo and Kym – 20
Andy and Sharna – 20
Sean and Peta - 20
Jacoby and Karina – 23
Ali and Mark - 24
Zendaya and Valentin – 26
Kellie and Derek - 26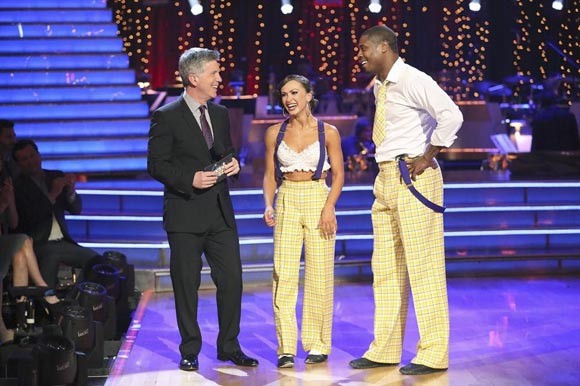 Last week's scores:
D.L. and Cheryl – 12
Andy and Sharna - 17
Victor and Lindsay – 18
Lisa and Gleb – 18
Wynonna and Tony - 18
Sean and Peta - 19
Ingo and Kym – 20
Jacoby and Karina - 20
Kellie and Derek – 21
Ali and Mark – 21
Dorothy and Tristan - 21
Zendaya and Valentin – 24
Total scores:
D.L.and Cheryl – 12 + 16 = 28
Dorothy and Tristan – 21 + 15 = 36
Victor and Lindsay – 18 + 18 = 36
Wynonna and Tony – 18 + 18 = 36
Lisa and Gleb – 18 + 18 = 36
Andy and Sharna- 17 + 20 = 37
Sean and Peta – 19 + 20 = 39
Ingo and Kym – 20 + 20 = 40
Jacoby and Karina – 20 + 23 = 43
Ali and Mark – 21 + 24 = 45
Kellie and Derek – 21 + 26 = 47
Zendaya and Valentin – 24 + 26 = 50