Zack Snyder Reveals First Look At Ben Affleck As Batman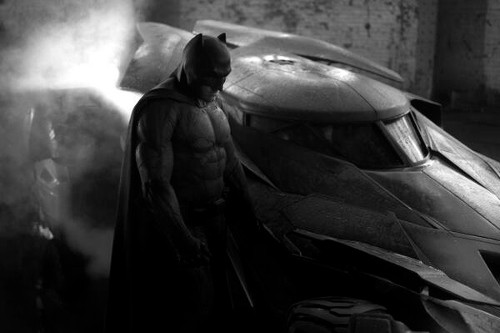 Zack Snyder teased a reveal of the new Batmobile yesterday, but today he delivered much more.
The director uploaded a photo of Ben Affleck as Batman standing next to his new wheels, which appear to be a blend of the classic Batmobile roadster and the new "Tumbler" we've grown fond of from Christopher Nolan's trilogy.
Affleck certainly looks buff in the smoky, black and white picture. If Batman vs. Superman is really following Frank Miller's The Dark Knight Returns, they pretty much nailed the larger frame of an older Caped Crusader. In Miller's story, the aging hero is more of a blunt trauma instrument rather than a gymnast.
Could be time to pull the tarp...Tomorrow? http://t.co/Nmm0QqWYYH pic.twitter.com/E6iKluZNDj

— ZackSnyder (@ZackSnyder) May 12, 2014
The shot has been met with cautious optimism, after fans bashed the director for the choice of Affleck to play Bruce Wayne. He certainly looks the part, in our opinion.
Snyder also threw out a nice tip of the hat to the makers of the camera he used for the shot – it's a good day to be involved with Leica cameras.