Zack Snyder Is Directing The Next 'Superman' Installment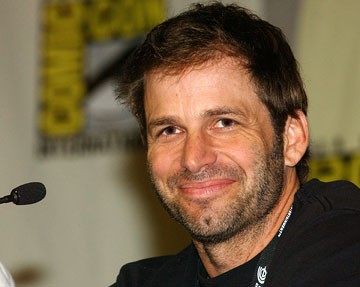 Finally some movement on the long turmoiled 'Superman' movie!  There has been a lot of speculation and rumors surrounding the next 'Superman' installment and what they can do to breathe some fresh air into the franchise.  We've heard talk of Darren Aronofsky directing, Natalie Portman as Lois Lane and Brandon Routh returning as the Man of Steel again and we know the villain is going to be General Zod but none of the actors have been cast thus far.  Well we finally have official word on a least one aspect and maybe the most important one.  Yesterday, Zack Snyder ('300' 'Watchmen' 'Sucker Punch') confirmed that he will be directing the next 'Superman' movie for Warner Bros. as soon as he is done with the post production on 'Sucker Punch'.  I'm partly shocked and mostly excited.  Snyder has been heard saying that he wasn't interested in touching the franchise and the rumors of Aronofsky seemed like they had some meat to them.  Snyder, having directed his fair share of action films, definitely has the eye and vision to give us all the 'Superman' movie we've been waiting for. 
With David Goyer working the script, Christopher Nolan and Emma Thomas producing, it seems this may be shaping up to be the next superhero movie franchise to get excited for.  The talent is first class so far.  The next question on everyone's mind is who will be Superman?  If Routh came back, that would be the best bet in my opinion.  He has the perfect look and persona for the character and although 'Superman Returns' was cheesy, that was mostly the script and directors fault.  I think Snyder could make a knockout Superman out of Routh and give the film some teeth.  I'm also curious to know if they are going for a darker, grittier version of Clark Kent or if they'll stick to the aloof and goofy mess of the last film.  Are they retelling the origin or picking up from the last film?  As the months go by and production starts I'm sure we'll slowly get answers to a few of these burning questions.
Here's what Snyder told Deadline. "I've been a big fan of the character for a long time, he's definitely the king of all superheroes, he's the one.  It's early yet, but I can tell you that what David and Chris have done with the story so far definitely has given me a great insight into a way to make him feel modern. I've always felt he was kind of awesome. I'll finish 'Sucker Punch' and get right at it."
Now that the cat's out of the bag, what do you guys think?  Good news or bad?
via Deadline