Zachary Quinto Producing Hurricane Katrina Drama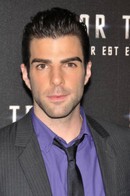 Star Trek actor Zachary Quinto is set to produce a romantic movie set in the aftermath of 2005's devastating Hurricane Katrina in Louisiana.

The star's production company is teaming up with Killer Films to work on Imperial Palace, which will tell the story of a man who manages a casino used as the headquarters for relief efforts and is caught up in a love triangle with his ex-girlfriend and another man.

It is not Quinto's first time producing a big screen project - he previously worked behind the scenes on Margin Call, in which he starred opposite Demi Moore, Kevin Spacey and Jeremy Irons, which was released in the U.S. in October.

In a statement, Quinto says, "We're thrilled to take the momentum of Margin Call and our experience working with (director) Victor (Quinaz) on his first film to move into a second feature with him. He's a truly original talent, and Imperial Palace is a perfect example of his unique, commercial voice."