Zach Galifianakis Nearly Burned Down His Farmhouse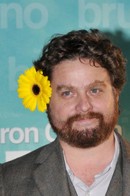 Zach Galifianakis sparked a fire emergency on his North Carolina farm recently when an effort to burn his grass got out of hand.

The Hangover star was smoking his land in a bid to revitalize grasslands and he almost burned his home down.

Recalling the emergency on Jimmy Kimmel Live! on Monday night, the funnyman said, "I poured a little diesel and lit it... I knew what I was doing; I was an Eagle Scout... But six minutes later my land is ablaze and I'm running to my neighbor.

"Two fire trucks and an ambulance came. These good old guys, like, see me as a city slicker, so it's really embarrassing: 'Hey Zach, what did you do?' 'Oh, I don't know - just trying to burn my grass.'"