Zach Galifianakis Dominates The 2011 Webby Awards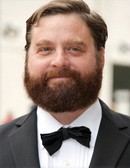 Zach Galifianakis was the toast of the online community at Monday's 15th annual Webby Awards, which celebrate the best of the net.

The Hangover star Galifianakis picked up four trophies - including Best Web Personality and Best Online Variety Show - for his comedy internet series, Between Two Ferns with Zach Galifianakis, a cable-show styled skit which appears on FunnyOrDie.com.

Lisa Kudrow, who hosted the ceremony at the Hammerstein Ballroom in New York, was also a winner and picked up her own trophies including Best Individual Performance in an Online Video for her show Web Therapy.

During the evening, the stars had to give their acceptance speeches in just five words, with LCD Soundsystem's James Murphy saying, "Thanks, this is deeply weird," on picking up the Artist Of The Year title.

Other stars noted for their online presence included Funny Or Die co-creator Will Ferrell, who picked up an award for one of his skits on the website, while Justin Bieber won Best Comedy Video for his April Fool's takeover of FunnyOrDie.com.

Arcade Fire also claimed two Webbys for their Wilderness Downtown music video.

The awards were announced in May but the prize-giving ceremony took place on Wednesday and was streamed live on Facebook.com.