Zach Galifianakis Brings The Funny To 'Saturday Night Live'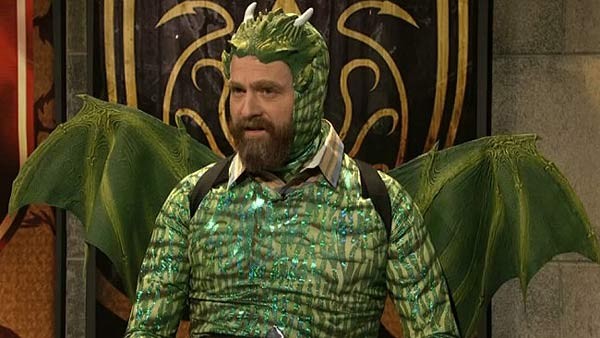 Zach Galifianakis returned to host Saturday Night Live for the third time Saturday night, and the star brought his usual brand of off-the-cuff one-liners and a few special guests to help him out.

After thanking fans for the applause while taking the stage for his monologue, he said of the night's show, "Thank you, thank you. Don't get your hopes up."

"I hope everybody had a great Thanksgiving," he added, playing on the April appearance and getting plenty of giggles.

Zach then sat down behind the piano to throw out some fantastic one-liners, like, "I only have setups, no punchlines."


The night's two best skits involved Galifianakis coming in eighth in a Jennifer Aniston look-alike contest, losing out to a pair of finalists named "Radley Cooper" and "Ted Helms." Zach's Hangover co-stars Bradley Cooper and Ed Helms joined him in the hilarious skit and wore blond Jennifer Aniston wigs and sang 'the show's theme song' "That's What Friends are For," at the end, prompting pageant host Jason Sudeikis to say, "that's not even the 'Friends' theme song."

(note: NBC didn't provide a video of the skit on their site, but you can see it on YouTube or below until it gets pulled.)


The show also featured a Game of Thrones skit, "Game of Game of Thrones," where three superfans of the show, including Galifianakis dressed in a dragon costume, answered questions about the series. A special guest makes an appearance at the end to deliver the final question.

Just like the show, life is very unfair for one contestant!

Before the show kicks off a graphic shows up which makes it seem that the show airs on the E! network, and a woman hilariously voices over, "You must be home with the flu during the day because you're watching E!"

After first two questions host O.J. Sampson (Bill Hader) tells the contestants, "You guys are on fire," and Galifianakis shouts, "And ice! ice and fire! that's a Game of Thrones joke!"


The actor also stars in a two-part sketch called "Darrell's House," about a guy on public access TV having people over to his house for the first time. He barks out orders to his off camera producer to replace dialog and add CGI effects in the final cut, which features Mad Men star Jon Hamm as his guest, played by both Kenan Thompson and Hamm himself.

Check out the full episode over at NBC.com.