Zac Efron & Pal Seth Rogen Spoof Kanye West Video With 'Bound 4'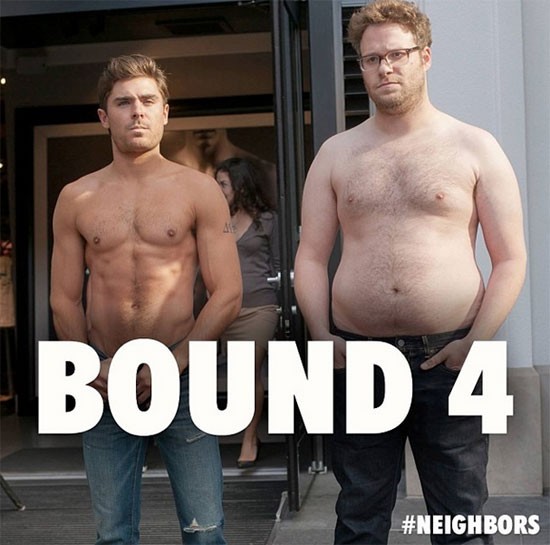 Zac Efron is the latest star to spoof Kanye West and Kim Kardashian's ridiculous "Bound 2" music video.
In the original video, the rapper's fiancee appears topless in silhouette for scenes depicting the couple riding through a desert landscape on a motorcycle. The wind blows through Kardashian's hair as she bounces up and down along the highway.
Before Efron got in on the fun, James Franco and Seth Rogen recreated the video frame by frame, with Rogen playing Kardashian, appearing topless and kissing and cuddling Franco while reclining on the seat of the chopper.
The following day, Efron and Rogen, who star in the upcoming film "Neighbors" together, posed topless together in an Instagram photo with "Bound 4" stamped across the bottom.  Efron reveals his six-pack abs, while Rogen looks a little tubby in the pic.
Efron captioned the photo: "Whether you're a Kanye West? fan or not, fans are Bound 2 get a kick out of this new still from Zac Efron and Seth Rogen's film Neighbors. Check out all the neighborly shenanigans when the comedy hits theaters next May! Uh huh honey."
This was a good move for Efron, who needed a bit of an image reboot. He made headlines earlier this year after it was revealed he spent time in rehab for drug and alcohol addiction. Then earlier this month, he broke his jaw after reportedly slipping on a puddle of water at his home. No word on whether drugs were involved in the incident.
The original "Bound 2"
James Franco & Seth Rogen in "Bound 3"