Zac Efron & Jennifer Love Hewitt Lead 'People's 50 Most Amazing Bodies'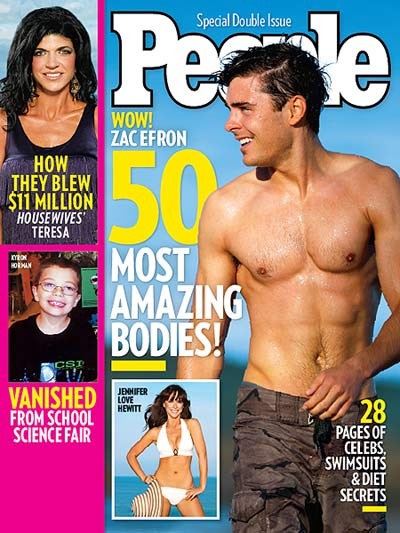 'PEOPLE' celebrates the 50 Most Amazing Bodies with Zac Efron and Jennifer Love Hewitt leading the pack in this week's special double issue featuring 28 pages of celebs, swimsuits, and diet secrets. High School Musical's Zac Efron, 22, officially graduates (with honors!) to sex symbol status as "Best Chest," along with Common, Hugh Jackman, Jake Gyllenhaal, Ryan Phillippe, and Kellan Lutz rounding out PEOPLE's list of hunks in trunks.

Ghost Whisperer star Jennifer Love Hewitt, 31, shows off her amazing bikini body in exclusive photos, and reveals the (real) skinny on how she went from "fat" to fabulous with her diet and exercise tricks. "I ordered a string bikini for the first time since I was 16," the newly trim and toned Hewitt tells PEOPLE, "and I'm rocking it this year!" When asked if she ever contemplated plastic surgery, she admits, "I've definitely thought about it. My hips have always been big. I remember thinking at one point, 'I know: I'll get my hips lipo-ed off!' You can't – it's bone. It doesn't work that way. But everybody thinks about it. And anybody who says they don't is lying." Regarding how she feels about her body now, she says, "I'm starting to love it. Not in love yet, but I'm falling in love with my body."

PEOPLE's Top 10 Body Moments of the Year include Jennifer Aniston's Smart Water ad, the latest print campaign that left women thirsty to have the 41-year-old's toned and taut figure; Taylor Lautner's muscle makeover in the Twilight film series, where the 18-year-old shed his shirt to reveal his newly chiseled torso; and Heidi Montag's extreme plastic surgery, where the 23-year-old Hills star underwent 10 procedures in one day that left her with DDD breasts, a new chin, and feeling "perfect."

In Perfect Pinups, four bathing beauties – Vanessa Minnillo, Gabrielle Union, Audrina Patridge, and Kendra Wilkinson – strip down to their swimsuits and spill their secrets. After giving birth to her son last December, "My curves shocked me big-time," admits E! reality star Wilkinson, 25. "It was a whole other woman I was looking at in the mirror. I was used to being fit and skinny. I never had to lose weight until now." LA-based actress Union, 37, tells PEOPLE she has no desire to be "a freak-show double zero." Instead, the size 6 star does at least 30 minutes of cardio three times a week so her figure remains "fit – but with boobs and a butt!" She adds, "I've gotten to a point where I love the skin that I'm in."

From calorie counting to plastic surgery, five stars – Lisa Rinna, Nikki Blonsky, Garcelle Beauvais, Dayna Devon and Whitney Port – hold a Body Summit, where they sound off about what it really takes to look good in Hollywood. "After I had my twins, there's a race to lose your baby weight," Beauvais, 43, tells PEOPLE. "We're putting too much pressure on losing the weight and fitting into skinny jeans." And if she wasn't in Hollywood, "I would be 7 lbs. heavier," admits Devon, 40.

Ballroom pros Cheryl Burke and Maksim Chmerkovskiy are featured in Dirty Dancing with the Stars, a unique photo spread where they recreate scenes from four iconic dance movies: "Dirty Dancing," "Footloose," "Flashdance," and "Grease." Finally, Mike "the Situation" Sorrentino gives new meaning to Body Language when he demonstrates his signature six-pack abdominals-baring move to male residents of a retirement community in Miami, where Jersey Shore recently filmed.

Also In This Week's 'People':
-Exclusive Interview: Katie Holmes Says Husband Tom's Dance At MTV Awards "Blew Me Away"
-Britney Spears' Complicated Love Life: "It Changes Minute To Minute," Says A Source
-How Real Housewives Star Teresa Giudice Blew $11 Million: "I Don't Spend Money That I Don't Have"
-Thomas Jane, Star Of HBO's Hung: "I Ate Fruit Bat Potpie. It Was Groovy!" 
The new issue of PEOPLE is on Newsstands everywhere Friday, June 18, 2010! Head over to PEOPLE.com to check out lots of hot pics of celeb bodies!
Click for more great Zac Efron pictures:
Click for more great Jennifer Love Hewitt pictures: