Zac Efron Gets Naked In Red Band Trailer For 'That Awkward Moment'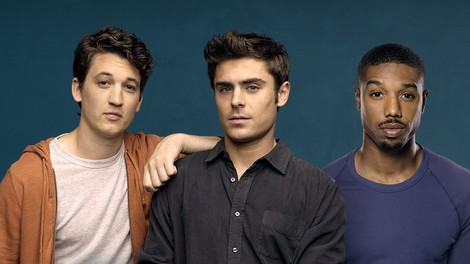 Zac Efron is showing some skin the sell the upcoming R-rated comedy That Awkward Moment.
In a red band trailer (meaning they don't cut out any of the R-rated material), three friends played by Efron, Miles Teller, and Michael B. Jordan begin a pact to stay single after Jordan's character gets dumped. However, as Efron and Teller's characters find great girlfriend material (played by Mackenzie Davis and Imogen Poots), they begin to struggle choosing between their pact and their relationships.
While the boys are enjoying the single life, Teller's character slips his friends erectile dysfunction pills so they can drink as much as they want ("like Keith Richards") and still perform. That leads to scenario where Teller's character can't urinate properly, and Efron tells him to "go horizontal." After being told it works, Efron chimes in, "Yeah, I know," as the camera reveals that he's lying across the toilet - nude.
Later in the trailer, Efron mistakes a dress-up party for a costume party and appears in a shirt that reads "Rock Out" while also wearing a dildo.
That Awkward Moment will be the second raunchy comedy for Efron in 2014 (the other being Neighbors), and the first to premiere in theaters following his drug issues.
The trailer below contains nudity and adult language.