Zac Efron And Seth Rogen Wear Drag For 'Tonight Show' Skit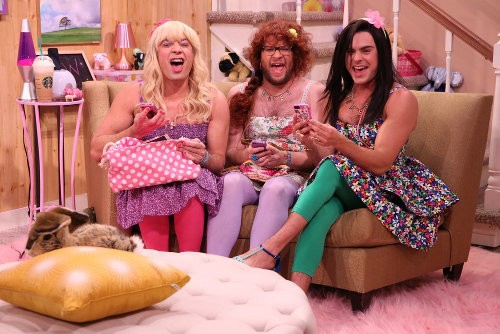 Neighbors co-stars Zac Efron and Seth Rogen got in touch with their feminine side for a skit on The Tonight Show Starring Jimmy Fallon.
Fallon reprised his Sarah character and her talk show "Ew!" last night, and Efron and Rogen were her special guests for the episode. Rogen played a bearded girl named Allison and Efron played selfie maestro Britney.
After taking a few photos, the girls decide to get down to Lil' Jon's "Turn Down For What," before Sara's stepfather interrupts them and starts singing about granola.
Following a "speed run" that revealed Allison's affection for Gary Oldman, the girls mention their disgust for Rogen's pal James Franco – then poke fun at his recent scandal involving texts to a teenage girl. Ouch!
Efron gave a sneak peek on Instagram as the show started, writing, "@jimmyfallon is S-A-R-A with no H, because H's are#Ew! Don't miss #ZacEfron on #FallonTonight!"