Yvonne Strahovski Bares All And Wears Only Body Paint For New SoBe Lifewater Photoshoot (Pics)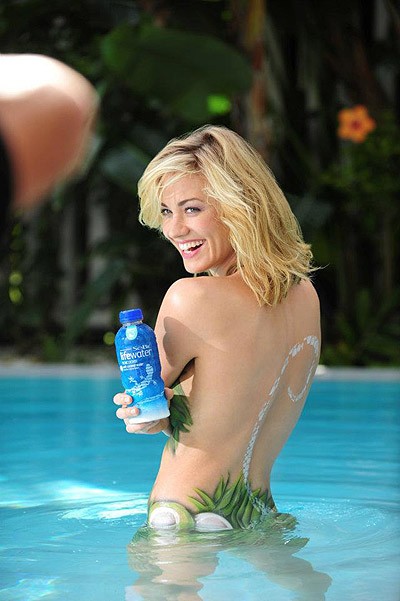 Sexy Australian actress Yvonne Strahovski recently endured six hours of standing around naked to have paint applied to her body by artist Rodrigo Piedra for a new SoBe Lifewater with Coconut Water "skinsuit" photoshoot in South Beach, Florida. The Chuck star's new ads will be featured in the upcoming Sports Illustrated Swimsuit Edition, which hits newsstands February 14.

"It was a fun shoot... it really felt like a bit of a mini holiday," Yvonne tells Fox411.com.

"I've never had palm fronds and coconuts painted on my body, but it was pretty cool. It felt like I was wearing something anyway, because the paint covers all of the important bits – it's just a little breezier than wear a regular suit," she says.

The actress also reveals that in order for tha paint to stick she had to endure a little pain.

"You have to get waxed–because the paint brings up everything on your skin, including hair, so you have to remove everything–all of the peach fuzzy bits," she says.

SoBe's three new Lifewater with Coconut Water flavors include Pacific Coconut, Pomegranate Nectarine, and Mango Mandarin. Yvonne's favorite is the Mango Mandarin - but she wasn't always a big fan of Coconut.

"I've tried coconut water straight up before, and to me, it's a little funky," she says. "I like that SoBe has come up with these new flavors and made it taste really good."

As if Yvonne's sexy Skinsuit photos weren't enough to get the word out about the new drink, SoBe is giving away 99 FREE bottles of SoBe Lifewater with Coconut Water every day on their Facebook page.

Past Skinsuit ads have featured Twilight star Ashley Greene and Gossip Girl's Jessica Szohr.