Young Jeezy To Shoot Documentary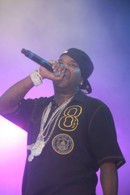 Rapper Young Jeezy is set to air his life story in a new documentary narrated by Samuel L. Jackson.

The private star, real name Jay Jenkins, will invite cameras into his life to shoot TM103: Hustlerz Ambition The Movie so he can create his own legacy.

He tells GlobalGrind.com, "I didn't wanna do it at first, but when you think about the late greats, 2Pac, Biggie, Big L, Big Pun... cats like that; they never got a chance to control their story. Always you find out how great they are after they're gone. So I just felt like let me go and get mine now.

"It's dope (great). I think it motivates and is an inspiration for anybody, but a lot of people that's (sic) been around through the years have seen my trials and... my triumph."

And the hitmaker has landed a big boost as he makes his foray into film - Hollywood star Jackson has agreed to to serve as narrator.