Young Jeezy Concert Descends Into Chaos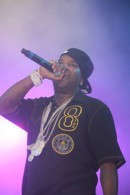 Rapper Young Jeezy was pulled off stage by security guards at his gig in Orlando, Florida on Sunday after the show descended into violence.
 
The atmosphere at the B.B. King Blues Club grew tense when bodyguards urged fans at the front of the stage to move back for their own safety, and violence broke out after a member of the audience hurled a drink at the star.
 
Video footage from the gig, obtained by TMZ.com, shows the music being turned off and Young Jeezy attempting to calm the crowd, but he is forced to retreat after being pelted by missiles.

Bottles and chairs are then thrown at the stage as the gig descends into chaos.

The day after the concert, Young Jeezy posted a defiant message on his Twitter.com page, writing, "F**k what you heard and damn who told you. Everything 100 (good) on my end! One time for Orlando, y'all were turned up (great). I'll be back sooner than later (sic)."