Young Buck's Song Rights To Go Under The Hammer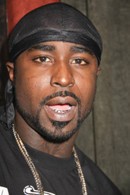 The rights to Young Buck's songs are to go on sale next month in an effort to pay off the troubled rapper's financial debts.

The former G-Unit star, real name David Darnell Brown, filed for bankruptcy in 2010 after racking up a $300,000 tax bill, prompting Internal Revenue Service agents to raid his Tennessee home and confiscate his possessions.

And now Young Buck is liquidating his assets and selling off his intellectual property on May 14th in a bid to pay back his creditors.

The auction is slated to take place at Tennessee law firm Harwell Howard Hyne Gabbert & Manner.