You Know The Rules, And So Do I (Links & Stuff)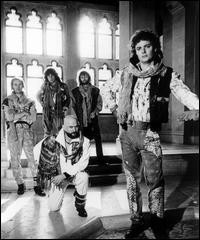 Check out some of the best links and viral videos found around the web today. And be sure to visit our
On the Web
section where we're constantly adding interesting links all the time.
Guess tonight's theme and you could win $1,000,000*!
(Not from us though, maybe if you play the lottery)
YOU can even add links to stuff you find out there now, like interesting articles, cool YouTube videos, strange news, interesting photo galleries, and, well, just about anything!
Angelina Jolie gives birth to nine, beats Octomom's record
- Pop Bytes
Paris Hilton to be Valtrex spokesman
- Uncoached
Anna Nicole Smith returns from the dead
- Hollywood Tuna
Britney's new single, "You're Gonna Have To Go If U See Kay Yourself":


Twitter to shut down
- IDLYITW
Brad Pitt to go back to Jennifer Aniston
- City Pages
Vanessa Hudgens skips Playboy, wants to do Penthouse instead
- Holy Taco
Championship Voting Begins on April 4 and the winners of the 2009 Starpulse Celebrity Madness Tournament will be announced on April 7th!
Led Zeppelin members agree to 18-month reunion tour
- The Post Chronicle
High-Tech Hijinks: Top 7 Web and PC Pranks
- WWTDD
Rihanna gets shot by her gun tattoo
- Dallas News
Hot chicks dancing naked:


Jehova's Witnesses & Amish team up to produce new vodka
- First Showing
Guy tricks his girlfriend into cutting her own fingers off (kinda graphic)
- Television Without Pity
A montage of fantastic April Fool's day pranks
- Gawker

Like what you see? There's lots more of this stuff in Starpulse's
On the Web page!
And don't forget to bookmark the
On the Web
page and check back often for some of the hottest, funniest, interestingest and craziest stuff on the web!
What do you think of these links? Interesting? Funny? Sexy? Stupid? Post your comments below!
And head over to our
On the Web section
to submit stuff that you've found and want to share!
Click the pics for gallery & larger images
*Paid out $1.00 per year over the next million years, beginning in the year 2150. Non transferable. Other restrictions apply, like the fact that it's April Fool's Day and this totally isn't for real. Seriously, if we had $1,000,000 to give away our staff would rig the contest and split the money. Now go vote in the Final Four of 'Celebrity Madness' and enjoy all the Rickrolls.