You Can't Miss "Armed & Famous," Premiering On CBS Tonight At 8PM EST!

Dancing is for wimps! These five brave celebrities will train to become sworn police officers with the Muncie Police Department in Muncie, Indiana. They will help clean the streets by arresting the bad guys, including drug dealers, hookers and johns, wife-beaters, burglars, the drunk-and-disorderly and more.
Who are these brave new recruits? International television star
Erik Estrada
("
CHiPs
"), singer and author
La Toya Jackson
, moviestar and professional skateboarder Jason "Wee-Man" Acuna ("
Jackass
"), television personality
Jack Osbourne
("
The Osbournes
"), and seven-time WWE champion wrestler
Trish Stratus
will venture into the streets to serve the people of Muncie.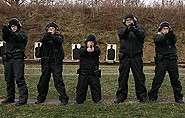 But first, they will go through intense police training to become cops. They will learn everything from firearms to hand-to-hand combat; they'll even find out what it is like to be on the receiving end of a taser! Upon completion of their training, they'll be issues badges and guns and will be partnered with veteran officers to hit the streets of Muncie.
Funny? Often. Emotional? Yes, and in surprising ways. Serious? Always. To these five celebrities, serving the people of Muncie is an honor that equals or surpasses anything they've experienced previously. Watch as they step up to the challenge of being…
Armed & Famous
.
Episode 1 Synopsis: "I Never Thought I'd Get Handcuffed by a Jackson" (Debut): Five celebrities (Erik Estrada, La Toya Jackson, Jack Osbourne, Jason "Wee-Man" Acuna and Trish Stratus) undergo police training and become reserve officers in the Muncie, Ind., police department. In the opener, their regimen begins.