You Can Run But You Can't Hide From 'The Walking Dead' at Universal's Halloween Horror Nights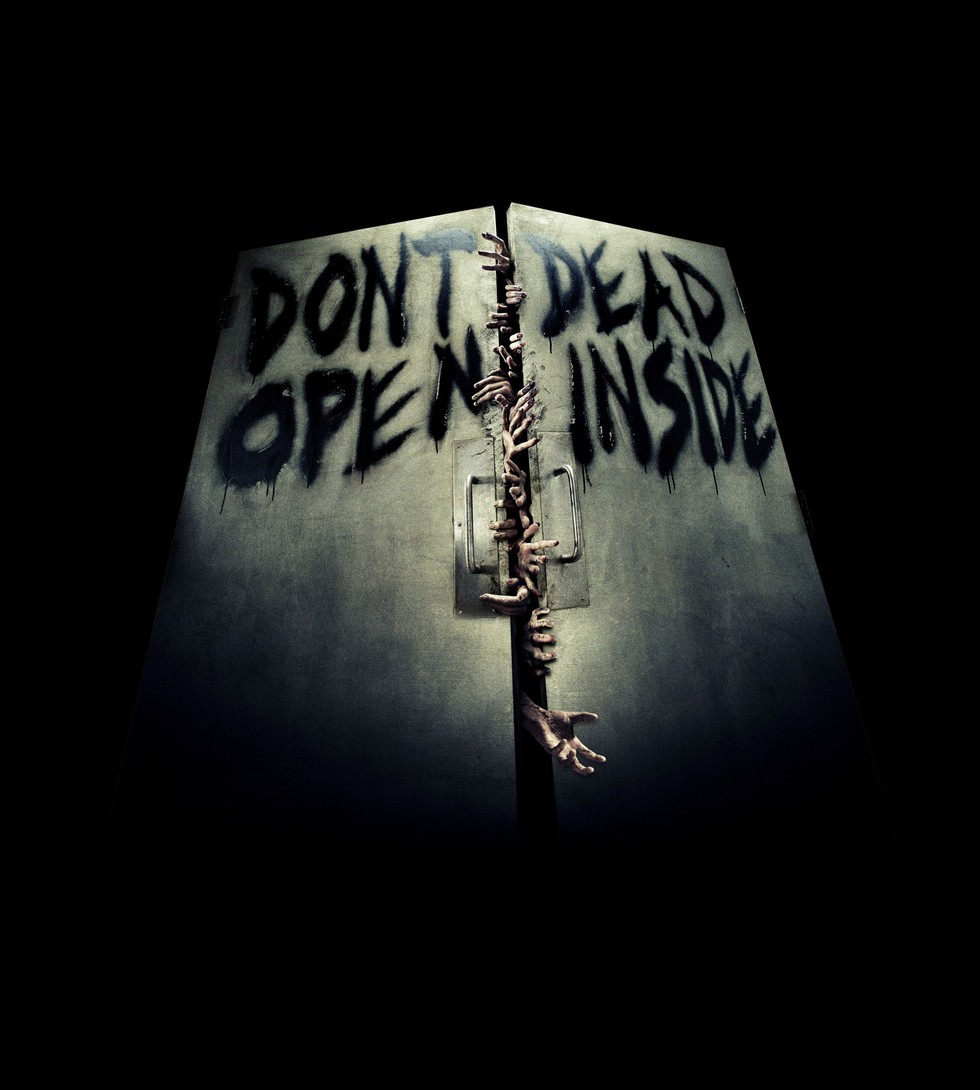 For those of us living in cooler climates, a trip to Florida or southern California during the brisk fall months sounds like a dream. But if the folks at Universal Orlando Resort and Universal Studios Hollywood have their way, visitors will be sucked into a dark nightmare from which there is no escape. At least until closing time.
Beginning on Friday, September 21, Halloween Horror Nights returns to both Universal properties, attracting legions of chill-seekers from around the globe. What's been billed as "the nation's premier Halloween event" is getting a shot in the arm this year with the addition of an attraction based on the hugely popular AMC television series, The Walking Dead, which chronicles the struggles of a group of people trying to survive in the aftermath of a zombie apocalypse.
Starpulse was among the media outlets recently invited to Orlando for a behind-the-scenes tour of THE WALKING DEAD: DEAD INSIDE haunted maze, led by The Walking Dead's co-executive producer and special effects guru Greg Nicotero, and Halloween Horror Nights show director Patrick Braillard.
Excited to reveal some of what he and Universal Studios Hollywood's creative director John Murdy have in store for guests this year, Braillard said, "We have a long-standing tradition, both John and I, from our two different parks, of bringing Horror Nights to our guests and scaring them...scaring them badly. That's our business. It doesn't work unless it's scary. So, partnering with The Walking Dead and the amazing effects that [they] have done is certainly a treat."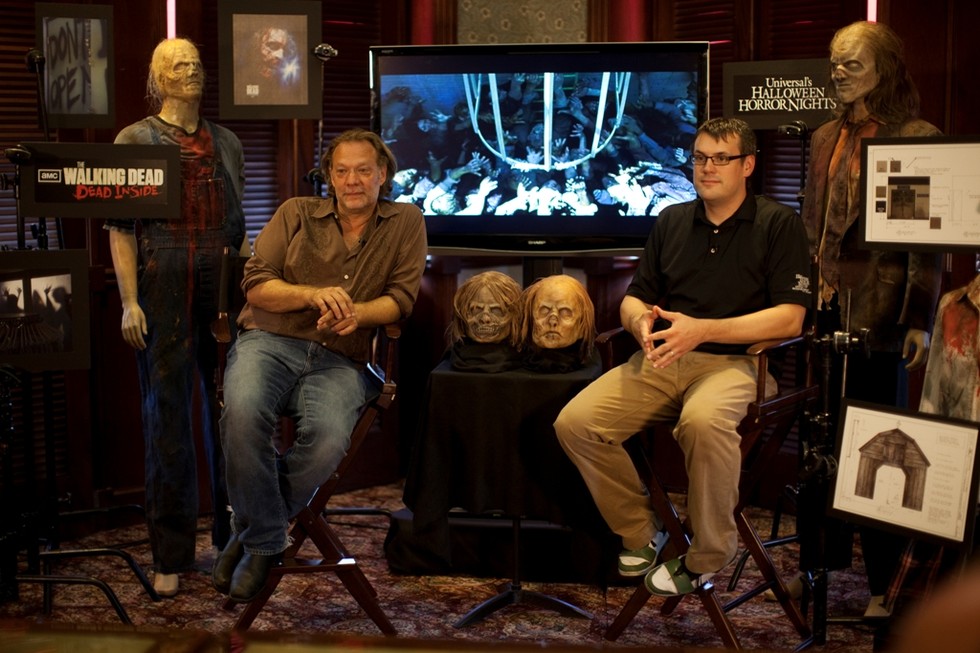 Greg Nicotero, left, and Patrick Braillard talk about the set pieces, scenes and characters that
visitors can expect to see in the haunted maze.
It's also a treat for Nicotero, who had no reservations about allowing the show into which he pours his fake blood and real sweat each week to be transformed into a Halloween attraction. In fact, he welcomed the challenge of bringing movie-quality effects to a live event. Many of the set pieces and makeup effects used were created from original molds from the show, and Nicotero consulted with Universal's makeup teams and sculptors to ensure that their original designs looked stylistically consistent and as authentic as possible.
Nicotero felt comfortable putting The Walking Dead in Universal's hands because the studio "invented the genre." He explained, "When I was a kid, Frankenstein, Wolfman, Dracula -- that was what it was about. [Universal] respects the genre. With Halloween Horror Nights, it's never made fun of; it's never cartoony; it's handled in a respectful nature. That's what I love about it. I live in Los Angeles, so I've been to the event there and I know of it very well, so when the idea of us collaborating came up, I couldn't be more proud."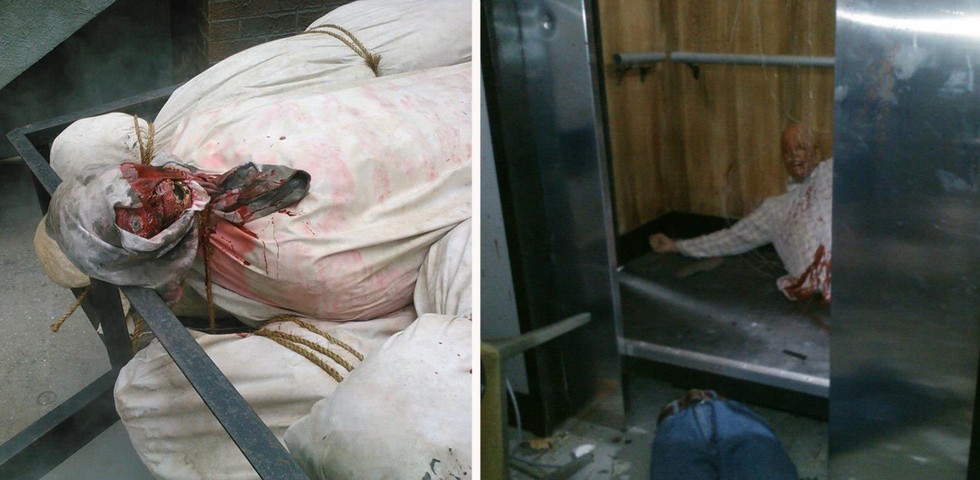 LEFT: A corpse plays possum outside the hospital entrance. RIGHT: This poor fella should have taken the escalator.
Certainly, the level of detail found in the attraction illustrates the respect that Universal has for the horror genre and The Walking Dead in particular. THE WALKING DEAD: DEAD INSIDE recreates and immerses guests in some of the most iconic images and scenes from the series' first two seasons. Fanboys and girls will no doubt shriek with delight upon seeing such familiar sights as the hospital where Rick Grimes wakes up in the first episode (with its ominous "Dead Inside" doors), Dale's RV and Hershel's barn, as well as fan-favorite characters like Bicycle Girl, Well Walker and Deer Eater. And visitors who have never seen an episode of the show will still find plenty to scream about because, hey, decomposing freaks will still be trying to eat them.
Braillard teased that, similar to the Walking Dead characters, guests won't have much luck finding a "safe zone" once they've made it out of the attraction. It's quite possible for folks to survive the maze, only to end up the prey to a massive horde of walkers coming around the bend! And while restaurants and stores were once a haven from the beasts roaming the streets, this time around there will be no place to hide. Well, there might be one place, as evidenced by Nicotero's advice for the park's more cowardly customers: "Stay in the bathroom!"
But for those with brave hearts (and strong bladders), THE WALKING DEAD: DEAD INSIDE offers a fun and frightening trek through one of the more exciting sites in the current television landscape.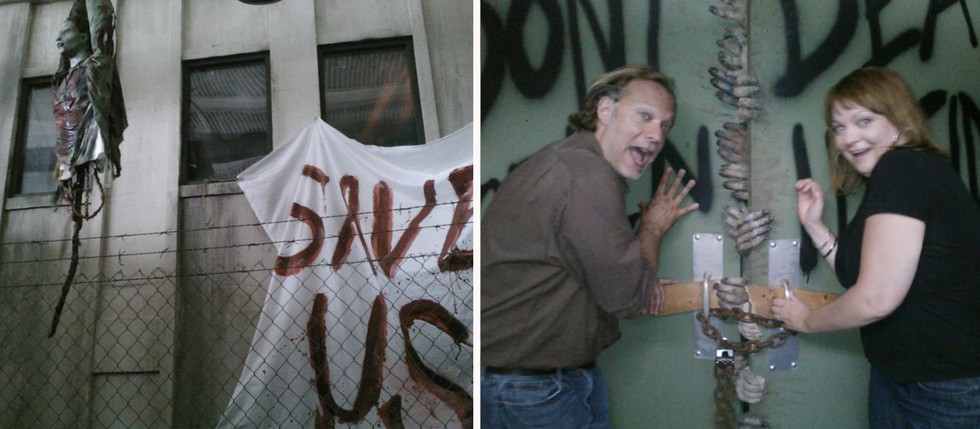 LEFT: Hmm, I'm not sure, but it may be too late to save this one. RIGHT: Your intrepid reporter and Greg Nicotero are both Pittsburgh natives, therefore, they know exactly how to handle zombies. Thank you, George Romero.
Halloween Horror Nights returns to Universal Orlando and Universal Hollywood on September 21, and runs on select nights through October 31. Both parks will give guests the pop cultural creeps with attractions based on The Walking Dead, the Silent Hill video game/motion picture franchise, Alice Cooper's "Welcome to My Nightmare," and more. For more information, visit HalloweenHorrorNights.com.