Ylvis Ink Deal To Turn 'The Fox' Into A Children's Book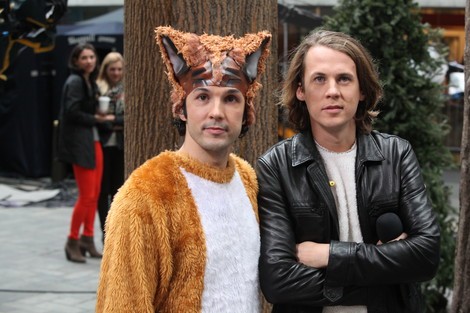 Norwegian sensation Ylvis have signed a deal to turn their improbable hit The Fox (What Does The Fox Say) into a children's book.

The brothers, Vegard and Bard Ylvisaker, originally recorded the song and made an accompanying video to prank TV bosses, however the track has become a chart-topping sensation and the promo has racked up 213 million YouTube hits, and now the siblings are set to become authors thanks to the catchy hit.

Officials at publishing house Simon & Schuster signed the Wacky comedy duo to adapt their catchy lyrics into a book, titled What Does the Fox Say?
According to The Independent, President of children's publishing at Simon & Schuster, Jon Anderson, said in a statement, "I cannot tell you how many times I'v e watched Ylvis' hilarious, mesmerizing, unforgettable "The Fox."

"The lyrics and playfulness of the song lend themselves perfectly to the picture book format."

Ylvis' first book will hit shelves on December 10th.