Yeah Yeah Yeahs Singer Karen O Weds Director Barnaby Clay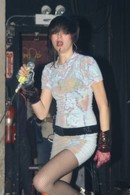 Yeah Yeah Yeahs rocker Karen O has wed her longtime boyfriend.

The singer, 33, recently exchanged vows with director Barnaby Clay, although she has failed to reveal specific details.

She tells UsMagazine.com, "I'm a married woman!"

Karen O has previously been romantically linked to filmmaker Spike Jonze.