Yeah Yeah Yeahs Singer Karen O Was Clueless About Led Zeppelin's Legacy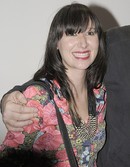 Yeah Yeah Yeahs frontwoman Karen O was "totally in the dark" about the rock legacy of Led Zeppelin when she agreed to cover one of their songs for The Girl With the Dragon Tattoo soundtrack.

The singer has teamed up with Nine Inch Nails rocker Trent Reznor to record a new version of the British icons' "Immigrant Song" - but Karen O confesses she knew nothing about the "Stairway to Heaven" stars when she stepped into the studio to work on the track.

She tells Britain's The Sun newspaper, "I plead total ignorance to Led Zeppelin. I am totally in the dark about them. That was the reason I could muster up whatever it took to actually cover that song. I didn't have any reverence for the track as I didn't really know it. When they asked I thought it was called 'The Pilgrim Song.'"

But Karen O insists her lack of knowledge about the original song gave her the freedom to tackle the tune however she saw fit - and she found the experience "fun and liberating."

She adds, "When I went into the studio to record the song I was feeling pretty angsty. I poured all my torment into the track as Trent's section was pretty rad. It's ballsy with the primal scream in there which was really fun and liberating to do."