Xzibit Visits Juvenile Detention Center Down Under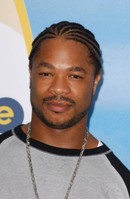 Rapper Xzibit has visited inmates at a juvenile detention center in Australia to talk to them about his own experiences of incarceration.

The hip-hop star arrived at the Don Dale Juvenile Detention Center in Darwin, Australia on Thursday and he spoke to the youngsters about the time he spent in a young offenders institution when he was a teenager. 
Xzibit talked frankly to the inmates and urged them to turn their lives around.
 
Speaking to reporters after the visit, he said, "I take time to go speak to kids like this because I was once in a situation like this - I was in juvenile detention when I was 14 or 15. When I was locked up, it was 'We'll see you when you get out' - that was the attitude...

"We spoke very frank (sic) to each other... I'm not here to tell them what's right or wrong, but what I told them that the choices you make will sometimes be unpopular because independent thinking at that age is sometimes unpopular... Jail sucks all the way around. I didn't like being locked up - being told when to get up, go to sleep, wearing other people's underwear. I realized there was more I could achieve and accomplish."

The star hopes his visit will inspire the youngsters to change their ways once they are released, adding, "I pulled my punches with them and I told them what made me so successful... Don't ally yourself with people who don't help you succeed."