Wynonna's Album 'Sing - Chapter 1' Out Feb. 3; Free NYC Concert Feb. 4

Twenty five: the number of years the incredible songtress
Wynonna Judd
has been bringing her amazing voice, her inspirational stories and her unique blend of country, soul and good 'ol Rock'n'Roll to the masses. In celebration of this illustrious career, Wynonna will be releasing her 7th studio album in 2009 - an eclectic assortment of standards paying homage to all the different genres and songs that have formed the soundtrack to her own life. Produced by long time collaborators Don Potter and Brent Mahar and recorded at Sound Kitchen, The Blue Room Studios and East Iris Studios in Nashville, TN, this album, appropriately titled
Sing
, will be out February 3rd on Curb Records.
Boiling down 25 years of music and experiences into one 12 song collection is no easy feat. Wynonna, along with her producers Don Potter and Brent Mahar, spent a year and a half meticulously traversing her extensive musical background before settling on the 12 songs included on Sing. From the big band, swing feel of the opener "That's How Rhythm Was Born," to the swelling choruses on closing title track, "Sing," Wynonna's voice shines - a clear expression of the heart and soul she put into this record.
"During the last year I have started gravitating toward the past," says Wynonna about the making of this record. "I have such an incredible history of these songs being played in the background while I'm living my life. So the whole album is a real cross-section of all the different genres I grew up with. It's all me, its all part of the tapestry of who I am."
On Sing, each and every song takes Wynonna back to a particular time and place in her life. For "Women Be Wise," Wynonna reminisces of her teenage days being grounded for not doing chores, when she would sing this classic tune in her room at the top of her lungs, while "The House Is A Rockin'" takes her back to the memories of getting made-up for a night out while
Jimmie
and
Stevie Ray Vaughan
practiced in the kitchen. Then there's the inclusion of the album's standout ballad, "When I Fall In Love," which is one of Wynonna's top 5 favorite songs of all time. It's an incredible mix of genres, with Wynonna's powerhouse vocals transitioning effortlessly from each style to the next. The resulting culmination of music exudes a level of sophistication that can only come with having had these rich experiences throughout her life and legendary career.
"Wynonna worked really hard to bring her life and her passions into these songs and do them the justice they deserved," Brent Mahar says, "And from the first track we recorded I think we all knew it was gonna be a really special endeavor." Co-producer Don Potter echoes that sentiment, saying, "As long as there is something to fly on she'll fly fast. This album is full of those songs that lift your heart and carry you."
Sing is a truly stunning anthology - a compilation of Wynonna's diverse musical roots and a time capsule of some of the milestone moments from throughout her life and career that have provided motivation to the queen of inspiration herself.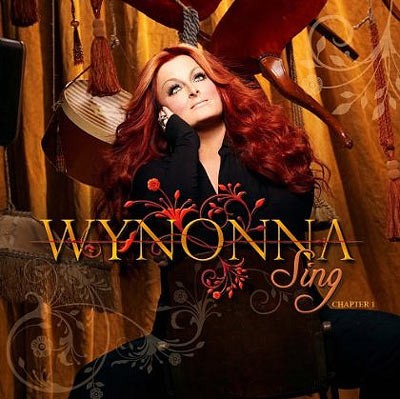 Track Listing:
1. That's How Rhythm Was Born (
The Boswell Sisters
)unknown/0/0/0/
2. I'm So Lonesome I Could Cry (
Hank Williams
)
3. Women Be Wise (Originally recorded by Sippie Wallace, popularized by
Bonnie Raitt
)
4. I Hear You Knockin' (Originally recorded by Smiley Lewis, popularized by
Dave Edmunds
)
5. Till I Get It Right (
Tammy Wynette
)
6. Are The Good Times Really Over (
Merle Haggard
)
7. The House Is Rockin' (Stevie Ray Vaughan)
8. Ain't No Sunshine (
Bill Withers
)
9. I'm A Woman (Originally recorded by Christine Kittrell, popularized by
Maria Muldaur
)
10. Anyone Who Had A Heart (
Burt Bacharach
for
Dionne Warwick
)
11. When I Fall In Love (
Nat King Cole
)
12. Sing
Wynonna Judd first gained fame as part of one of the most successful musical duos of all time,
The Judds
, selling over 20 million records. On top of that amazing feat, she also holds multiple gold, platinum and multi-platinum certifications from the RIAA in excess of 10 million units sold for albums released throughout her solo career. In 2005 Wynonna became a New York
Times
best selling author with the release of her long-awaited autobiography, "Coming Home to Myself," released in conjunction with her live CD and DVD
Her Story: Scenes from a Lifetime
; the latter of which having been certified Gold.
Wynonna will also appear on Good Morning America's Winter Concert Series February 4th In New York City.
Wynonna's performance is free and open to the public.
Viewers interested in attending should arrive at the studio located at GMA's Times Square Studio at 43rd St. & Broadway in midtown Manhattan no later than 7am EST Feb. 4th. Entrance to the studio is on a first-come, first-served basis.
Click the pics for gallery & larger images