Wynonna Judd Gives Tearful Goodbye To 'Dancing With The Stars'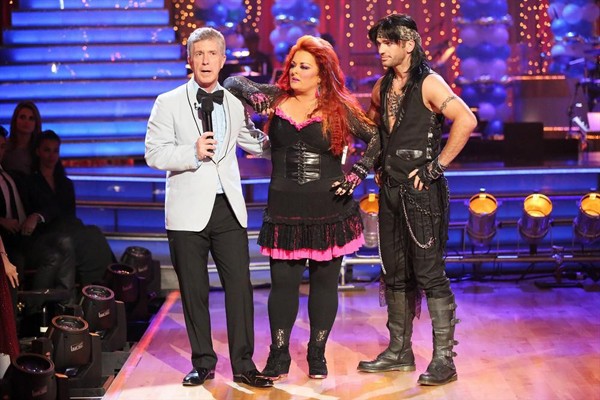 It was another results night on "Dancing with the Stars" and after a performance filled evening, country star Wynonna Judd and her dance partner Tony Dovolani were eliminated from the competition.
A tearful Wynonna said goodbye to DWTS and her fans; "I feel like I'm in a movie and it's over too soon. Gosh, what am I going to do now? Tomorrow, am I going to sleep in? I don't have to rehearse. I'm going to go home, I'm gonna work on my record, I'm gonna get back on that stage and sing, which is what God gave me the gift to do."

"I've faced one of my biggest fears," she went on to explain. "I've said no to the last six seasons because of this very thing called competition. I'm not a competitive person by nature. Country music fans are so loyal. I've been doing this for 30 years, we're talking generations of Judd Heads. This was terrifying coming into it and the only reason I said yes was because Tony is the greatest teacher. We'll be friends forever."
Here's a recap of what went down in last night's fun filled performance and elimination night.
After a short recap of performance night Zendaya and Jacoby were named queen and king of the prom. For winning the celebrities each received two bonus points added to their scores.
Zendaya and Valentin and Jacoby and Karina were also announced safe for another week.
In the first guest performance of the night, Huey Lewis and the New celebrated an upcoming album release by performing "Heart of Rock and Roll". Huey showed that he's still got it and is ready to hit the road in May for a tour.
After Carrie Ann said the only thing missing from Sean and Peta's Cha Cha was Bruno; Bruno joined the pair for an encore performance of the Cha Cha to "YMCA."
In the next round of results Kellie and Derek were safe; as were D.L. and a very excited Cheryl.
The Pro guys and Troupe members of season 16 joined forces for a rumble on the dance floor.
The next results revealed that Sean and Peta and Victor and Lindsay were safe; but Lisa and Gleb and Andy and Sharna were in jeopardy of going home.
The Macy's Stars of Dance performance dazzled viewers with wizardry and optical illusion as the dancers seemed to defy the laws of physics by sliding up a ramp.
Pop star Demi Lovato performed her new hit single "Heart attack."
In the last group for results Ali and Mark and Ingo and Kym were safe but Wynonna and Tony were in jeopardy of being eliminated.
Lisa and Gleb were saved; leaving Andy and Sharna and Wynonna and Tony were in the bottom two and in jeopardy of going home.
On the third week of competition Wynonna Judd and Tony Dovolani were eliminated after scoring the lowest points of the week.
Next week it's story week and the celebrities will relive the best year of their lives.