WWE: The Music, Volume 8 Released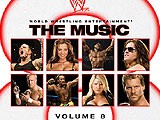 Columbia Records and World Wrestling Entertainment join forces to unleash
WWE: The Music, Volume 8
, the latest installment in the WWE's top-selling series of Superstar Entrance Themes, available everywhere Tuesday, March 25.
The second musical release under the new Columbia Records/WWE Music Group arrangement announced in December 2007,
WWE: The Music, Volume 8
showcases all-new, never-before-released entrance themes for the WWE's biggest contemporary Superstars, premiering new tracks by
Disciple
,
Collie Buddz
,
EndeverafteR
,
Saliva
,
Airbourne
,
Theory of a Deadman
and more.
Mr. Kennedy "Turn Up The Trouble":
Tracks on
WWE: The Music, Volume 8
are written, produced and recorded for WWE Music Group by RIAA gold and platinum record holder Jim Johnston, creator of the unforgettable themes of the WWE Superstars--from "RAW®" to "SmackDown®" to "ECW®"--and recipient of six BMI Cable Awards for his work on "WWE RAW," the longest running original entertainment show in television history.
WWE: The Music, Volume 8
brings together the mind-melting Official Entrance Themes of today's biggest WWE Superstars across all three brands, RAW, SmackDown and ECW--Jeff Hardy™, Kofi Kingston™, Beth Phoenix™, Mark Henry™, Hawkins™ & Ryder™, Jillian™, Mr. McMahon®, Jesse™ & Festus™
Candice Michelle
™, John Morrison™, Shelton Benjamin®, Mr. Kennedy™, and Chris Jericho®--performed by EndeverafteR, Collie Buddz, Heet Mob, Disciple, Theory of a Deadman, Saliva featuring Brent Smith, Axel, Airbourne and more.
John Morrison "Ain't No Make Believe":
WWE: The Music Volume 8
drops right in time for WWE's biggest bash of the year, WrestleMania® XXIV live on pay-per-view on Sunday, March 30 at the Florida Citrus Bowl in Orlando, Fla. The world's greatest fighter and one of today's greatest pay-per-view draws in boxing, Floyd Mayweather, Jr. will wrestle against the 7 foot 399 lb Big Show®. Other main event matches include a Triple Threat Match featuring
Triple H
®,
John Cena
® and WWE Champion
Randy Orton
® for the WWE Championship and World Heavyweight Champion Edge® defending his title against
Undertaker
®.
Beth Phoenix "Glamazon":
1. Jeff Hardy No More Words EndeverafteR
2. Kofi Kingston SOS Collie Buddz
3. Beth Phoenix Glamazon Jim Johnston, Composer
4. Mark Henry The Wall Jim Johnston, Composer
5. Hawkins & Ryder In The Middle of it Now Disciple
6. Jillian Sliced Bread Jim Johnston, Composer
7. Mr. McMahon No Chance In Hell Theory of a Deadman
8. ECW Theme Don't Question My Heart Saliva w/ Brent Smith
9. Jesse & Festus Biscuits & Gravy Jim Johnston, Composer
10. Candice Michelle What Love Is Jim Johnston, Composer
11. John Morrison Ain't No Make Believe Jim Johnston, Composer
12. Shelton Benjamin Ain't No Stoppin' Me Axel
13. Mr. Kennedy Turn Up The Trouble Airbourne
14. Chris Jericho Break The Walls Down Jim Johnston, Composer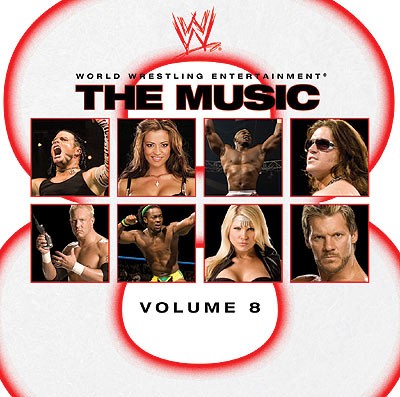 WWE has sold more than six million CDs worldwide with five WWE Group album titles debuting in the US Top 10. Each week, the WWE broadcasts six hours of original programming, seen by nearly 16 million people in the US alone, with WWE programming going out to 130 countries in 20 different languages worldwide. "WWE Monday Night RAW" is the most watched regularly scheduled program on ad-supported cable television. "WWE Friday Night SmackDown" is the top rated Friday night program among total teens, male teens and males 18-34 and is the most watched program on The CW Network among all male demographics.