Writer's Viewpoint: 'Late Night With Jimmy Fallon'

We are now a few weeks into the
Jimmy Fallon
era of late night network programming -- his absence this week was allegedly a planned vacation, not a result from his
argument/possible fight at a New York City pizza restaurant
-- and, well, I have mixed feelings. Now, I've made it clear I've always
kind of enjoyed Jimmy Fallon
so I am certainly not one looking to see him fail. At the same time, though, there's something about his show, so far, that has annoyed me. I couldn't quite put my finger on it, though. I almost feel the show is trying to be "too cool": Hey, look, we have bloggers (I can confirm from experience, this does not make you cool). Or: Hey, look, we have
The Roots
-- everyone knows The Roots are cool, right? I decided to see for myself and make a visit to Jimmy Fallon's show.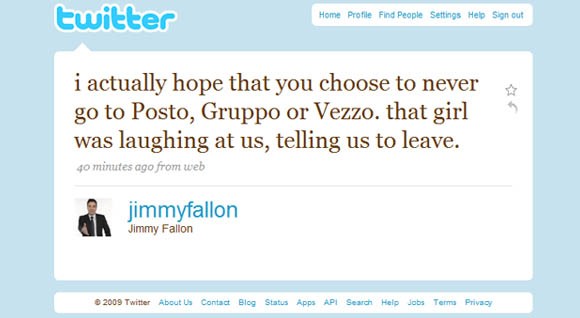 Truth be told:
I received no special access, though I tried. After the fifth person on his publicist's team told me that I would, again, need to speak to, again, another person for that request, I did what any responsible writer would do: I begged my friend for tickets that had ordered hers months before through NBC. So, this time there was no special greeting party and behind the scenes tour like there was for
my visit to Saturday Night Live
. This time I was (literally) pushed through the Rockefeller Center metal detectors along with everyone else.
When I got up to the studio I, along with all other members of the audience, received a free tee-shirt. OK, I admit, I'm a sucker for a free tee-shirt so Fallon's on my good side already. The set is beautiful, but kind of awkwardly arranged. For instance: when you're looking straightforward at the set from the audience Fallon's desk and guest chairs, to the left of the curtain, is set at a 45 degree angle to the audience. So during the show it's almost like he's looking at The Roots, who are all the way to the right, not the audience. The large flat screen television set that he does sketches in front of is against the side wall all the way to the left -- so during these sketches he's still looking at The Roots. I'm beginning to sense a trend, I just think Fallon's goal is just to make The Roots laugh so they think he's cool ... maybe let him join the band -- I can't say I blame him.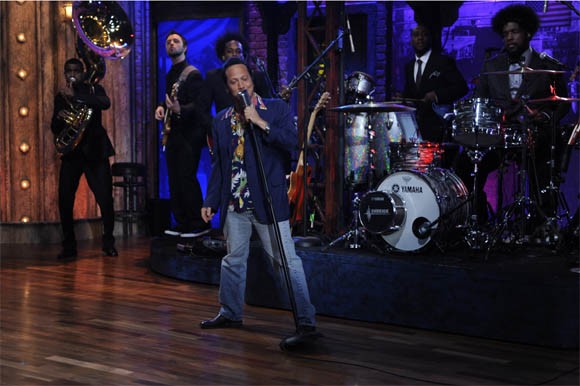 LATE NIGHT WITH JIMMY FALLON -- Episode 16 -- Pictured: (center) Rob Schneider, The Roots -- NBC Photo: Dana Edelson
I am one of the few people that do not rant and rave about The Roots. I am now a convert, these guys are just plain amazing. And they know how to make an entrance as they jammed as a pseudo marching band from the stage door to their show position on stage. They jam so long that by the time announcer Steve Higgins appears, the show is ready to start. Which is odd because there's one guy we have yet to see ... Jimmy Fallon.
Now, I've been to quite a few studio tapings:
Letterman
,
Conan
,
Stewart
,
Colbert
. One thing all of these shows have in common is that the host of the show -- even the notoriously shy Letterman -- will come out before the show to say hello to the audience and take questions. Which is nice, it builds rapport. I was at the third ever episode of
The Colbert Report
and was on cloud nine for two weeks because Colbert answered my question. The first time, as a studio audience, we see Jimmy Fallon is the same as the at home audience ... when he comes out for the monologue. I think this is a mistake. Now, he does address the audience during the first commercial break (more on that in a bit) but it was by far the least loose audience I've been in and I got the sense people were thinking: Hey guy telling jokes, who are you? Conan had a great way of making the audience feel like we were all in on a big joke, that's a big difference than someone just telling jokes.
Like I said, Fallon did address the audience during the first commercial break and seemed quite sincere, but it might have been too late. You know, that whole "one chance to make a first impression" thing. And yes, he took my question. Perhaps only because people were looking around with blank stares when he asked. In fact, the first question answered was a ridiculous request for Fallon to have drinks with the inquirer and her group of friends. Shockingly, he declined. Not to say my question was any better: He is in one of my favorite films of all time,
Almost Famous
, so I asked what is was like working with director
Cameron Crowe
. Fallon responded:
"Cameron Crowe is a genius. If he asked me to deliver coffee to the set of a new movie right now, I would do it. On
Almost Famous
I had a beard that everyone thinks is fake, but it's not. I was sitting next to my mother during the premiere and she kept asking me when I would be in the movie. I pointed myself out and she didn't believe me because of the beard."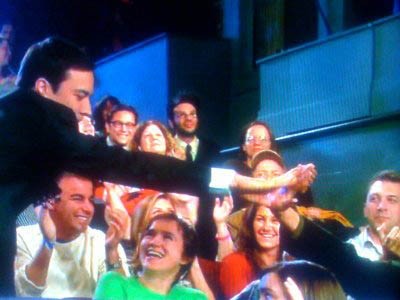 The first guest was
Ray Liotta
. It was a bit of an awkward interview and this is when it hit me what was wrong with the show: Jimmy Fallon hosts a show like I would. If I had a late night television show I would invite my friends on ... and in my mind, it would be awesome. But, in reality, it would be like watching two friends discuss inside jokes for ten minutes and, later, I would wonder why no one really laughed during the discussion. I am self aware enough to know that I am not qualified to be a talk show host so I expect better from actual hosts. Fallon has fallen into this trap. He, too often, invites people he knows personally as his guest and as a result gets an "inside baseball" interview that an average person is going to have no interest in. And yes, I realize his first interview, ever, was
Robert De Niro
. I'm just asking he be realistic, not commit talk show suicide.
Again, I like Jimmy Fallon. Hey, he even comes into the audience at the end of the show to give high fives to members of the audience who are near the aisle -- yes, I was one of those people as this pictures shows. You can't see me, but, yep, that's my hand giving Jimmy Fallon a high five. Did I have fun at the show? Yes. Was Jimmy Fallon a good host? Of course. I just think there are a few tweaks he could make to make himself a better host. My biggest question now is if my new tee-shirt will be a cool artifact like the people who own original
Late Night with David Letterman
shirts or if it will be an ironic hipster joke like someone wearing a
The Chevy Chase Show
shirt.

"Mike's Pulse" is a column written by transplanted Midwesterner and current New Yorker Mike Ryan. For any compliments or complaints -- preferably the former -- you may contact Mike directly at miker@starpulse.com
or follow Mike on
Twitter