Writer Talks About Desperate Housewives Video Game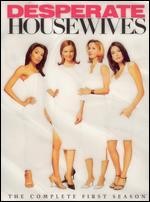 Smash hit TV show
Desperate Housewives
is being turned into a computer game. Players will get to be a new housewife who moves to Wisteria Lane and has to unlock the darkest secrets of her neighbors - Susan, Bree, Gabrielle, Edie and Lynette. The show's creator and producer, Mark Cherry, said: "It's a great opportunity to allow our viewers the chance to be a part of the world of the 'Desperate Housewives'."
The game's dialogue has been created by one of the show's own scriptwriters, Scott Sanford Tobis. He told the Entertainment Tonight website: "I want players to feel like they've found a bonus episode of the show. In fact, it's more like eight separate TV episodes. I wrote about 13,000 lines of dialogue for this game." The game will be released in September.
Meanwhile, the real Wisteria Lane is getting a new resident. '
Twin Peaks
' hunk
Kyle MacLachlan
will be joining the cast for a number of episodes as a dentist who has a crush on Susan - played by the stunning
Teri Hatcher
.
Producers have yet to decide whether his character will become a permanent resident in season three.
Previous Story:
Desperate Housewives... The Video Game