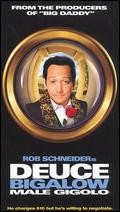 First dates are always awkward. Between not knowing what to say, fumbling with the check when it arrives at the table, or wondering whether there will be a kiss at the end of the night, these situations are ones people can't wait to overcome. Sometimes first dates can be disastrous from the start, and you hope to God you never see the other person again, that is if you don't die of utter embarrassment right there on the spot.
Hollywood loves to over emphasize situations and showcase things that probably would never happen in real life; at least you hope they'll never happen to you! Here are ten of the worst movie dates, in no particular order:
Along Came Polly
- (
Jennifer Aniston
as Polly and
Ben Stiller
as Reuben)
Polly takes Reuben to the Middle Eastern Restaurant, and Reuben starts sweating profusely because his irritable bowel syndrome can't handle spicy food. He tries to convince Polly he's fine, but the gurgling coming from his stomach begs to differ. She invites him up to her apartment and he runs to the bathroom, ends up clogging the toilet, flooding her bathroom and ruining her loofah and washcloth.
There's Something About Mary
- (Ben Stiller as Ted and
Cameron Diaz
as Mary)
Ted picks Mary up at her house for their senior prom. Her "special needs" brother Warren ends up freaking out when Ted "finds' a baseball behind his ear and ruins Mary's dress strap. Then Ted goes to use the bathroom, and while he is looking out the window he sees Mary's mother trying to fix her dress, and it appears as though he is peeping on her in her skivvies. As they make eye contact, he gets nervous and zips his man parts into his zipper. The firemen have to come in and assist with the unzipping. Needless to say, they never made it to the prom.
Little Children
- (
Jackie Earle Haley
as Ronnie)
On a darker note: Ronnie's mother sets him up on a date even though he tells her that he doesn't desire women his own age. Why you might ask? He's a convicted sex offender. But to make his mother happy, he agrees. The date starts off well with dinner but ends with him masturbating in his date's car parked beside a playground. He threatens her while she cries helplessly.
Just Friends
- (Ryan Reynolds as Chris and Amy Smart as Jamie)
The two reunited friends go out after not seeing each other since high school. Because he now lives in L.A., he tries to impress her by picking her up in a Porsche (it's the winter time in New Jersey) then takes her to the same diner where they used to go when he was fat. The waitress recognizes him, gives him the usual pancake platter and calls him Chubby Bunny. After lunch, Chris drops Jamie off at home, and when they go to hug they slip and slide on the ice in a very long, awkward, hilarious moment. To top it all off, he gets in his car and screams at himself for being such an idiot while banging his head against the wheel while she's watching.
Dumb and Dumber
- (
Jeff Daniels
as Harry and
Lauren Holly
as Mary)
Lloyd gets mad at Harry for going out with "his girl", so he gives him Colon Blow to help ease his own pain. When Harry goes to pick up Mary at her house to go skiing, he races to the toilet because he can't hold it in any longer. The toilet ends up broken so he can't flush and when Mary asks him what he's doing, he responds, "Shaving!"
Deuce Bigalow
- (
Rob Schneider
as Deuce)
Deuce is a gigolo in training trying to make a living and ends up going out with all these crazy girls with different problems. He goes out on one date with a narcoleptic girl who ends up falling asleep at the restaurant in her soup.
The 40-Year-Old Virgin
- (
Steve Carell
as Andy and
Leslie Mann
as Nicky)
Andy takes Nicky home from the bar after she takes about 5 tequila shots. She ends up drunk driving, makes him blow in the court ordered breathalyzer, almost crashes her PT Cruiser, and pukes up shellfish all over his face. There's no sex in the cards for him there.
When Harry Met Sally
- (
Meg Ryan
as Sally and
Billy Crystal
as Harry)
Sally tries to set her friend Harry up with Mary while Harry tries to set her up with his friend Jess. The two supposed dates end up hitting it off instead, which leaves Harry and Sally in the same position they were at initially.
Hitch
- (
Will Smith
as Hitch and
Eva Mendes
as Sara)
Hitch and Sara go on a double date with Sara's boss and his wife. They are at a cooking class when Hitch eats shellfish. After a few moments, he swells up like a blowfish and has to go the pharmacy to get Benadryl.
The Break-Up
- (Jennifer Aniston as Brooke and Vince Vaughn as Gary)
Brooke and Gary are still living together but are dating other people, and one of Brooke's date starts playing video games with Gary on the couch. He ends up bonding with Gary and doesn't really want to go out on the date with Brooke at that point.
Related Articles:
-
Character Additions That Nearly Ruined A TV Show (Or Did)
-
A Look At Adam Sandler's Standout Movies
-
Most Underrated & Overrated Celebrity Couples
Story by
Erin Demchak
Starpulse contributing writer