Workplace Romance: Costars Who Fell In Love

It is widely acknowledged that workplace romances are a definite no-no; clearly, some famous actors and actresses didn't get the memo. From classic romantic duos Bogey/Bacall and Spencer/Tracy to contemporary pairings like "Bennifer" and "Brangelina", since the inception of cinema, thespians have taken on-set relationships from reel-life to real-life.
Julia Roberts
and
Kiefer Sutherland's
hearts skipped a beat while filming
Flatliners
(1990).
Tom Cruise
admired a young Aussie actress named
Nicole Kidman
and had her cast opposite him in
Days of Thunder
. The movie
Seven
ended with
Gwyneth's
head in a box - and on the pillow of costar
Brad Pitt
.
Johnny Depp
tattooed "Winona Forever" on his arm after meeting
Ms. Ryder
while shooting
Edward Scissorhands
;
Warren Beatty
romanced countless costars before one last fling on the 1990 set of
Dick Tracy
with a breathless
Madonna
;
Matt Damon
and
Minnie Driver
held hands between takes of
Good Will Hunting
(1997);
Ryan Gosling
and
Rachel McAdams
thrilled rabid fans of
The Notebook
by actually falling for one another;
Heath Ledger
and
Michelle Williams
connected making
Brokeback Mountain
and garnered two Oscar nods and daughter Matilda. The list goes on:
Jude Law
and
Sienna Miller
(
Alfie
);
Jennifer Aniston
and
Vince Vaughn
(
The Breakup
);
Kate Hudson
and
Owen Wilson
(
You, Me and Dupree
).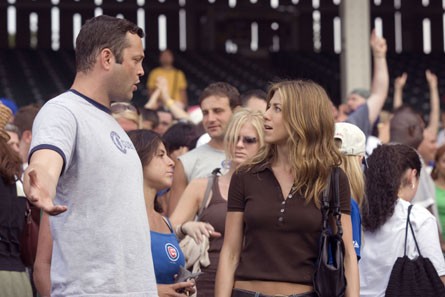 Jennifer Aniston and Vince Vaughn - 'The Breakup' - 2006)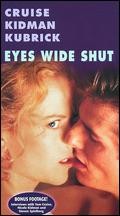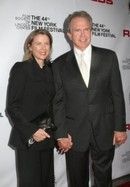 Statistically, average workplace romances have around an 80% failure rate and Hollywood is no exception. Julia Roberts skipped out on her wedding to Kiefer and ran off with his buddy
Jason Patric
. Kidman claimed she had
Eyes Wide Shut
when Cruise left her just shy of their 10th anniversary (Tom later went on to have a relationship with another costar,
Penelope Cruz
, before marrying current wife
Katie Holmes
.) Pitt and Gwynnie fizzled and Johnny Depp had his tattoo altered to read "Wino Forever". Beatty and Madonna went kaput and he finally settled down with
Annette Bening
, whom he met shooting Bugsy (1991). Minnie Driver reportedly found out about her breakup with Damon while watching him on "Oprah". Aniston and Vaughn was a blip, Gosling and McAdams split in 2007, Kate and Owen separated several before she moved on to
Lance Armstrong
and Jude Law cheated on Sienna Miller - with the nanny.
So consenting singles meet and mingle under the klieg lights from time to time - it's to be expected. But what happens when a star has a significant other, or even - gasp - a spouse back at home, awaiting the wrap of production? In the early 70's,
Love Story's
Ali MacGraw
braved the clout of husband and studio head Robert Evans to run off with costar
Steve McQueen
(
The Getaway
).
Laura Dern
(Jurassic Park) was stunned in 1991 when her longtime boyfriend
Billy Bob Thornton
eloped with his
Pushing Tin
costar
Angelina Jolie
(Later, many would blame Jolie for the breakup of a much more famous pairing,
Jennifer Aniston
and
Brad Pitt
). America's sweetheart
Meg Ryan
threw her reputation to the wind when she cheated on hubby
Dennis Quaid
with bad boy
Russell Crowe
while filming 2000's
Proof of Life
.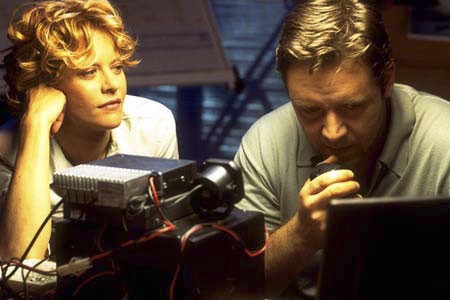 Meg Ryan and Russell Crowe in 'Proof of Life' - 2000
Ryan Phillippe's
"friendship" with
Stop-Loss
costar
Abbie Cornish
allegedly played a part in the dissolution of his marriage to
Reese Witherspoon
. Both actress
Anne Heche
and director
Robert Rodriguez
went through ugly divorces after their relationships with
James Tupper
("
Men in Trees
") and
Rose McGowan
(
Planet Terror
) respectively. Classic Hollywood was not immune to scandal: A very married Ingrid Bergman became pregnant by her Stromboli director Roberto Rossellini in 1950, prompting condemnation by Congress, while heavy-drinking Welshman
Richard Burton
slipped off his wedding ring on the 1963 set of
Cleopatra
to hit the sheets with
Elizabeth Taylor
, already on her fourth marriage (Burton and Taylor went on to marry and divorce - twice).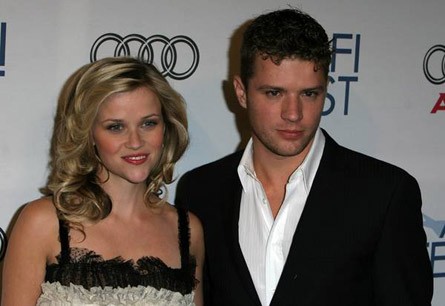 Reese Witherspoon and Ryan Phillippe - 2005
Clark Gable
conveniently forgot about his wife when he laid eyes on ingénue
Loretta Young
(
The Call of the Wild
, 1935), a dalliance that produced a secret daughter, Judy. Behind the romantic mystique of two storied romances: Bogie traded in his wife for 19 year-old
Lauren Bacall
and devout Catholic
Spencer Tracy
refused to divorce his wife, choosing companionship with
Katharine Hepburn
for a quarter of a century (whom he costarred with a whopping 25 times!). However, the fate of these illicit affairs seem to lend credence to Karma - with the exception of Hepburn/Tracy, not one of them lasted (Cornish and Phillippe outcome pending).
If a romance on a film set sours, the inevitable wrap (feature shoot times average 6 months) serves as some consolation. Television actors who get involved on the set of a series, however, often have to continue working with former paramours indefinitely. Heartthrob
Chad Michael Murray
crushed a million tween hopes when he married his "
One Tree Hill
" costar
Sophia Bush
. The sadness of adoring fans was short-lived, like the marriage: The young costars split months later, yet still work together to this day. Other stars who put their professionalism to the test:
Marilu Henner
slept with both
Judd Hirsch
and
Tony Danza
, her costars in the 70's series "
Taxi
";
Matthew LeBlanc
took up with "
Joey
" costar
Andrea Anders
despite a recent marriage and infant daughter;
Jennifer Garner
separated from actor
Scott Foley
(whom she met on the set of "
Felicity
") then fell for "
Alias
" costar
Michael Vartan
only to split with him before the show's conclusion. Ironically, Jen is now happily married to yet another costar -
Ben Affleck
(
Daredevil
) with whom she's currently expecting her second baby.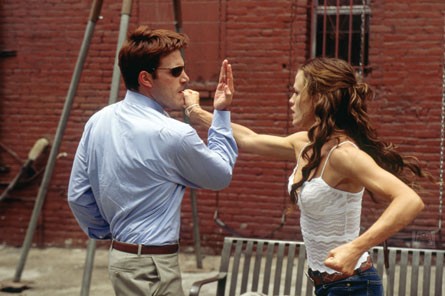 Ben Affleck and Jennifer Garner - 'Daredevil' 2003
Aside from the interest of a celebrity-obsessed media and interested public, the personal relationships of actors are nobody's business, right? Right - unless you're the studio backing a picture potentially affected by a possible scandal. Production heads were ringing their hands when Burton and Taylor aroused negative publicity and the ire of the Vatican for their open affair during Cleopatra's Roman shoot. Bennifer, aka Ben Affleck and
Jennifer Lopez
, fell in love on the set of
Gigli
(2003) and consequently tanked both that film and
Jersey Girl
(2004). A public disgusted with Meg Ryan's behavior rendered Proof of Life box office poison, while the combustible coupling of
Kim Basinger
and
Alec Baldwin
overshadowed the 1991 film
The Marrying Man
and landed the director in the hospital for stress-related exhaustion.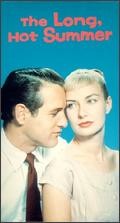 Production liaisons aren't always doomed: Defying the odds are longtime couples like
Paul Newman
and
Joanne Woodward
(married since 1958) whose palpable chemistry is evident in The
Long Hot Summer
; the late actor
Ossie Davis
and his bride
Ruby Dee
who met performing in "Jeb" on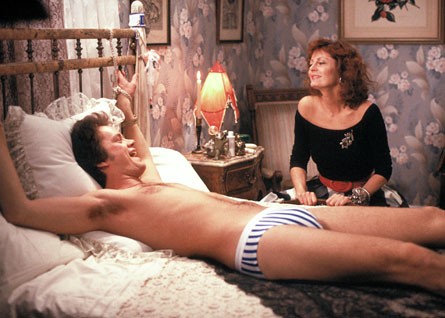 Broadway in 1946 and were married until his death in 2005;
Kyra Sedgwick
("
The Closer
") who is only separated by one degree from
Kevin Bacon
, her husband of twenty years (met on the TV Movie set of "
Lemon Sky
" in 1988) and two famous couples still living together in unwedded bliss -
Tim Robbins
and
Susan Sarandon
(met on
Bull Durham
, 1988) and
Kurt Russell
and
Goldie Hawn
(met on
Swing Shift
, 1984). Who knows: Someday we may be able to add Gosling and McAdams to the list, as they've been recently spotted spending time together once again.

Kyra Sedgwick & Kevin Bacon together since 1988 - Kurt Russell and Goldie Hawn met on Swing Shif in 1984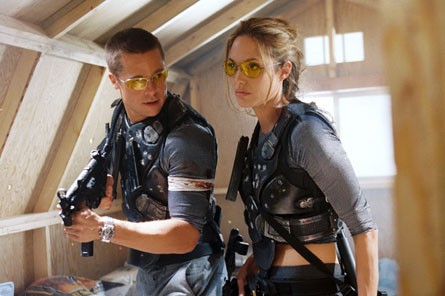 So will America's most famous co-stars in love
Angelina Jolie
and
Brad Pitt
continue their path of harmonious domesticity, or will it all end in a shootout ala the flick that united them,
Mr. And Mrs. Smith
? Time will tell... The fact is that the success or failure rate of on-set romances is of little consequence to those who embark on the relationships. As the late, great auteur Alfred Hitchcock wryly observed, "All love scenes started on the set are continued in the dressing room after the day's shooting."
Story by
Shannon Peace
Starpulse contributing writer