Woody Harrelson Takes On The U.S. Army Over Monkey Tests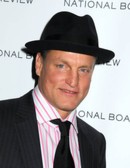 Woody Harrelson has taken aim at the U.S. Army in a bid to stop officials using live monkeys in chemical attack training exercises.

The actor, who landed an Oscar nomination for his portrayal of an Army captain in The Messenger, has written a letter to new Army Chief of Staff, General Raymond Odierno on behalf of animal rights organization PETA, urging him to outlaw the "outdated" practice.

PETA officials claim the military "repeatedly injects monkeys with drug overdoses to crudely recreate the effects of a nerve agent attack".

Harrelson writes, "I urge you to stop this crude exercise... I'm sure you agree that our military personnel deserve state-of-the-art training and that our country deserves to be respected for its civilized treatment of animals."

The actor is particularly disturbed about reports from tests carried out at Aberdeen Proving Ground in Maryland, writing, "The monkeys forced through this procedure will suffer the wretched symptoms of chemical poisoning, including seizures, breathing difficulties, loss of bowel control, and convulsions. In a laboratory worksheet that PETA obtained from Aberdeen, one student compared a monkey's violent reaction during the exercise to 'a chiwawa (sic) sh*tting razor blades.'"

Harrelson signs off by urging the general to adopt humane, medical simulation tests that are currently being carried out at Harvard Medical School and "other institutions."