'Wonder Years' Actress To Star in Lifetime Movies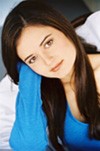 Danica McKellar
has signed on to star in the lead role as Maddie Monroe in two movie-of-the-weeks and 10 web-episodes for Lifetime's "Inspector Mom." Monroe is a young suburban mother of two toddlers who just happens to solve local murder mysteries on the side.
Each episode, web-episodes including, will be an independent story with a different mystery each time that McKellar will have to solve in her role as Maddie Munroe. The first movie-of-the-week to launch the multimedia series will air in Fall '06 with five web-episodes to follow. The second movie-of-the-week will air subsequently with the last five web-episodes winding up the series. No other roles have been cast yet.
McKellar is best known for her portrayal of Winnie Cooper on the hit television show
The Wonder Years
and Elsie Snuffin on the Emmy-Award winning series
The West Wing
. She recently completed shooting the feature film "Hack" with
William Forsythe
, set to be released later this year.