Women's Rights Activists Protest Reebok After Rick Ross's Unapologetic Explanation Of Rape Lyrics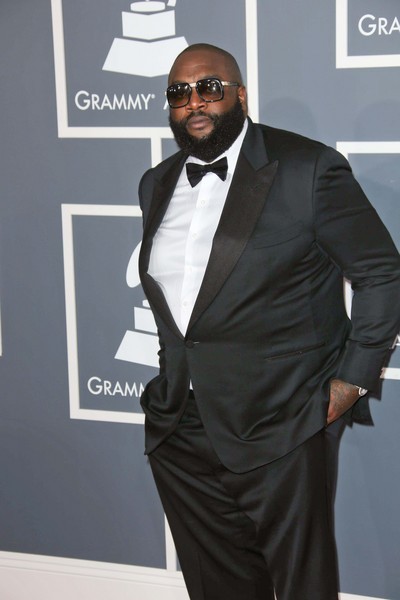 Rick Ross has issued an apology after coming under fire over his controversial lyrics that were featured in rapper Rocko's latest single, "U.O.E.N.O. (You Ain't Even Know It)."

The song, which features a ryhme that condones date rape, prompted womens rights activists to start a petition earlier this week and to call on athletic giant Reebok to drop Ross from his sponsorship deal with them. The petition garnered 72,000 signatures and over 100 activists from women's rights groups UltraViolet and NOW delivered it to Reebok's New York City flagship store on Thursday.

The offensive lyric name-drops the sneaker company and glorifies putting a "molly" -- a slang term for the drug ecstasy -- into a woman's drink and taking advantage of her.

The lyric in question: "I die over these Reeboks, you dont even know it / Put molly all in her champagne, she ain't even know it / I took her home and I enjoy that, she aint even know it."

Ross was somewhat unapologetic over the situation, calling it a "misunderstanding" of his lyrics instead of taking accountability for his words on Thursday when he attempted an explanation on New Orleans radio station Q93.3.

"I want to make sure this is clear," said Ross. "Woman is the most precious gift known to man, you understand? It was a misunderstanding with a lyric, a misinterpretation where the term rape wasn't used. I would never use the word rape in my records."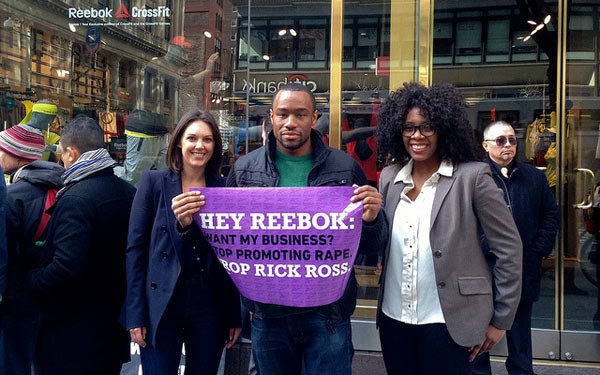 Despite not actually using the word "rape" in the song, his explanation still angered activists (mainly because the lyric clearly alludes to date-rape), who targeted Reebok over their choice of a representative of their brands.

"By holding Rick Ross up as something to aspire to, Reebok is sending the message that raping a woman is cool–and that's a dangerous message to send the boys and young men that Reebok markets to. This is what rape culture is," says Nita Chaudhary, co-founder of women's rights organization UltraViolet. "Reebok needs to know that we won't stand for this."

Ross also tweeted, "I dont condone rape. Apologies for the #lyric interpreted as rape. #BOSS."

He later added an apology to Reebok. "Apologies to my many business partners,who would never promote violence against women. @ReebokClassics @ultraviolet."

UltraViolet replied to Ross's apology via Twitter, saying, "We appreciate that you don't condone rape but what's upsetting is that you're rapping about it & don't know it... slipping a woman a drug and 'enjoying' her is rape."

Reebok wouldn't allow any of the protestors into the store, but two employees of the company accepted the petitions at the door and promised toget them to the company's CEO Uli Becker. The company has yet to comment on the situation.