'Women In Trouble' Is Interesting But Flawed

Sebastian Gutierrez is known for being the screenwriter of films like "
Snakes On a Plane
," "
Gothika
," and "
The Eye
," but for his new film "
Women in Trouble
" he seemed to take a turn from big action films to an independent character piece.
It's heavy with quick paced dialogue, clever and amusing, and it stars ten women as the heart and soul of the story. "Women in Trouble" is a troubled film itself, because while it has some moments of pure acting and writing gold, there are several serious hang ups that the audience will find hard to forgive.
The real main character of the movie is Elektra Luxx, a porn star that is so famous she has a plastic vagina modeled after her. Played by the sultry and vulnerable Carla Gugino, Elektra could easily fall into the typical whore with a heart of gold cliche, but she's just snappish and self-aware enough to make her unique. She finds out that she is pregnant by her rock star ex, and she is then trapped on an elevator with businesswoman Doris (
Connie Britton
). The two bond as they wait for help, and Doris admits that her sister is raising her daughter who she gave up. The daughter in question Charlotte (Isabella Gutierrez) is precocious and strange, and intensely perceptive. She knows her 'mother' is having an affair with her therapist's husband, and tells the therapist Maxine (Sarah Clarke) so. She then tries to deal with her husband Travis' (
Simon Baker
) infidelity.
Elektra's goofy porno mate is brought in to help her call girl friend with a client, but they are almost attacked by some goons and run away. Maxine drives them to a bar and they all bond. Meanwhile up in the air a stewardess decides to sleep with Elektra's ex in the bathroom, and he is killed suddenly during a bump in the air. All the stories connect together in one way or another, and most of these women in trouble manage to suck it up and continue on with their lives. The film is very well acted; there are absolutely no weak links acting wise, even with the director's own daughter in the role of the girl Charlotte. The movie has very "Sex and the City"-like dialogue. It is fast paced, dry, amusing, and blunt.
The problems are more thematic and personal. In a film that's dealing with strong women and empowering them in many ways, it exploits the sex industry and the attractiveness of its actresses with various shots of them in underwear. Was it necessary that more than half of the cast had to be porn stars, call girls, or sexually loose? It certainly presents a certain type of background for women, and one that might be interesting and sympathetic, but it does seem to feed the idea that in Hollywood female characters are either girlfriends, whores, prim and proper mothers/wives, or tough and masculine fighters.
It was wonderful to see so many excellent actresses getting a chance to shine as primary characters, but it was conversely annoying to see most of them treated like sex objects of some kind. Women are sensual and it is great to have that embraced, but it feels like they can either be the Madonna or the whore, even in this film. Gutierrez may have intended positive things in his movie, but it simply does not translate. Another problem is in the characterization of the males in the film. There are really only a handful, and two majors: the cheating husband and the womanizer rock star. Does a movie intending to celebrate female power have to attack men to attain that? It's like the film has embraced two equally unhappy cliches: the sex hungry male who watches for the nudity and the angry feminist who declares men to be the enemy.
All that being said, if you are not really sensitive to sex talk or language, the positives of the movie might be just entertaining enough to make it work. It's certainly an interesting film, if a flawed one. I respect Gutierrez's attempt to spotlight female stars when they are so often overlooked, but it could be a little less "Showgirls." The actresses are all exceptional in the film, and that certainly makes it easier to accept the problems, if not ignore them completely. "Women in Trouble" is out in theaters now and rated R for sexual content and language.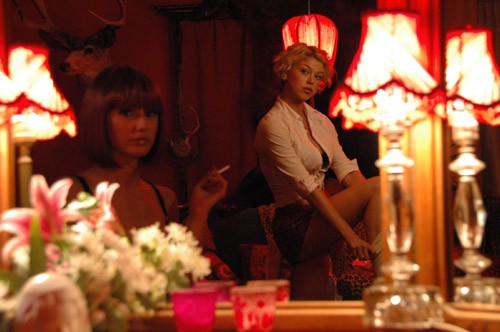 Story by
Chelsea Doyle
Starpulse contributing writer
Follow Chelsea on twitter at http://twitter.com/mustbethursday.