Wolfgang Puck Gets Ready For Oscar's Big Night (Photos)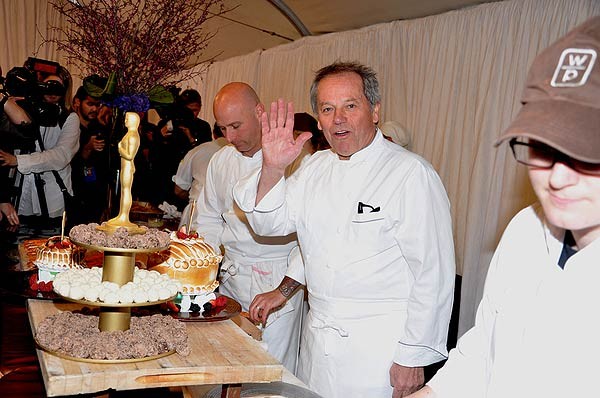 Wolfgang Puck and a whole lot of other folks are busting their humps getting ready for Sunday night's Academy Awards ceremony at the Kodak Theater in Los Angeles.  The following images will give you a bit of a look into what goes on behind the scenes and the amount of planning that goes into Tinseltown's biggest event of the year.

Here, Chef Puck is readying some of his world-famous cuisine at the Oscar Food and Beverage Preview while the red carpet is rolled out along Hollywood Boulevard in anticipation for the bevy of A-listers (and not A-listers) to rub elbows and answer countless "what was it like working with..." questions from the frenzied media. The food preview is a sampling of some of the various items that will be served to guests at the Governor's Ball, which immediately follows the show.

One of the new features at this year's event will be the personalization of winners' Oscar statues. Those who win will have their engraved name plates added to their statues right after the show; so while the stars are eating, some guy's going to be sitting in the corner gluing nameplates to their gold statues. Fun stuff. In years past, winners had to wait weeks after the ceremony to have their names added. All 197 nominees have a name plate already created and the winners will receive theirs added to their Oscar (we're assuming at no extra charge) and the unused plates will be melted down for next year.

This year Chef Puck's menu leans heavily toward Asian cuisine in the passed hors d'oevres, and sounds just plain fantastic. The menu includes:

-Smoked Salmon Pizza with Caviar and Dill Creme (pictured in the gallery below)
-Mini Kobe Burgers with Aged Cheddar and Remoulade (pictured in the gallery below)
-Chicken Pot Pie with Yukon Gold Potatoes, Baby Heirloom Vegetables and Homemade Pastry Crust

The menu was created by Wolfgang Puck with Chef partner Matt Bencivenga & Executive Pastry Chef Sherry Yard.

Some interesting facts about the Governator Governor's Ball: there will be 1500 guests and 900 staff, which means the service should be awesome; 1200 bottles of Champagne, which should be plenty unless Lindsay Lohan shows up; a half-ton each of wild salmon and organic chicken, so PETA should be thrilled; 3,000 petite edible flowers; and one specific item listed that we really dont' want to know any more about - "20 pounds Wolfgang Puck".

To recap, here are this year's Best Picture nominees, and for nine of these films the food just won't seem to taste as good as it does for the cast & crew of "The Hurt Locker":

"Avatar"
"The Hurt Locker"
"Precious: Based on the novel 'Push' by Sapphire"
"Up in the Air"
"Inglourious Basterds"
"Up"
"The Blind Side"
"District 9"
"An Education"
"A Serious Man"

Click HERE to see who we predict will win.

Enjoy the show!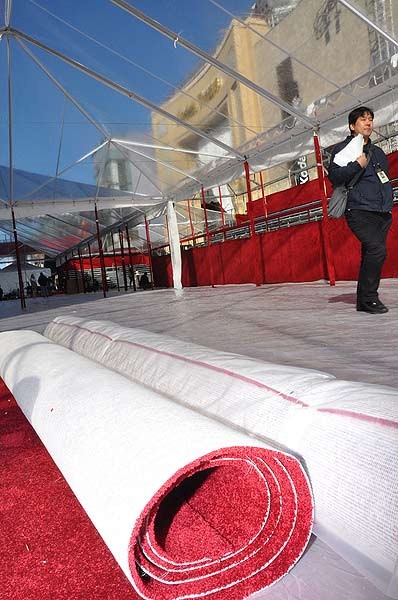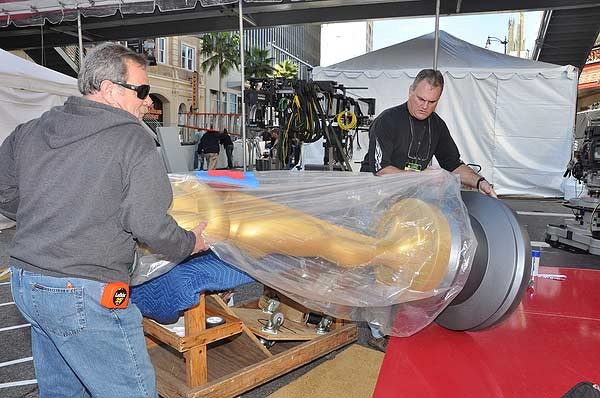 Click the pics for larger images: