Wiz Khalifa Shocked By The Amount Of Weed Miley Cyrus Smokes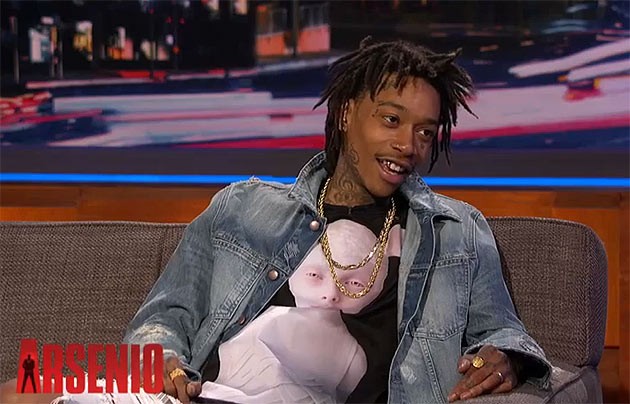 Wiz Khalifa has a new album coming out titled "Blacc Hollywood," and the rapper was one of Arsenio Hall's guests Tuesday night.

Wiz stopped by the host's talk show to do a little promotion for his upcoming album, and he revealed that he rounded up several collaborators for the new album, including , Charlie Wilson, Bruno Mars and Miley Cyrus.

Arsenio asked what it was like working with Cyrus, and Khalifa, real name Cameron Jibril Thomaz, revealed that she smokes a lot of marijuana.

"[She's] insane!" the rapper said. "But, in a good way, though... She's just a ball of energy-- and she smokes a ton!"

"She's younger, so it's different. Every five minutes she kept bein' like, 'hey, Wiz, you don't have a joint rolled? Like, what's up?'" Khalifa added. "She's just blowin' like a train."

The rapper also said he's quite fond of Miley's family.

"Oh, her Dad's cool as heck too, Billy Ray, that's the homie," he said. "Her brother (Trace) is a friend of mine, her little sister is super dope, she doesn't smoke pot yet, but yeah."