With Half Of The Film Finished, Producers May Scrap 'Fast & Furious 7'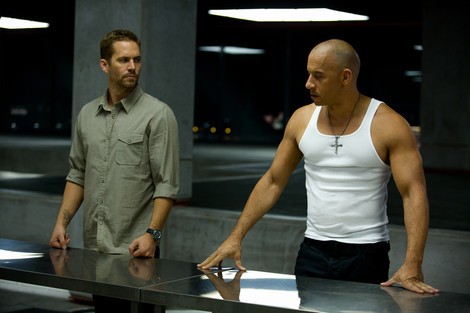 The death of Paul Walker may force Universal Pictures to start over with Fast & Furious 7, despite the amount of money and time already poured into the project.
TheWrap reports that the high-budget flick is on the chopping block even though half of the movie has already been filmed. Reportedly Paul Walker's scenes had yet to be finished, so the studio is in the awkward position of attempting to write out Walker's character or just start over.
The site does note that Universal insured itself for unexpected occurrences such as Pal's tragic death, so they won't be losing money if they trash what they have on film. Still, that leaves the task of re-writing the script, putting together a new shooting schedule, and attempting to secure all of the talent for that new schedule.
TheWrap says internal conversations at Universal are against using a body double and cobbling together CGI effects to put Paul's face on it. However, despite the sudden change of plans due to the sad death of one of their key actors, Universal has yet to rule out a July 1, 2014 release date. With Fast & Furious 6 taking $800 million in ticket sales worldwide, you'd understand why they are trying hard to release another so soon.
UPDATE: Universal Pictures has released a statement confirming the production of Fast and Furious 7 is on indefinite hold. It reads, "Right now, all of us at Universal are dedicated to providing support to Paul's immediate family and our extended Fast & Furious family of cast, crew and filmmakers. At this time we feel it is our responsibility to shut down production on Fast & Furious 7 for a period of time so we can assess all options available to move forward with the franchise. We are committed to keeping Fast & Furious fans informed, and we will provide further information to them when we have it. Until then, we know they join us in mourning the passing of our dear friend Paul Walker."