Wishes Of A Television-aholic: 'Grey's Anatomy'
When "Grey's Anatomy" made its triumphant mid-season premiere in 2005, it was the much-needed cure for my nasty case of Bad-Television-itis, and a lusty, dramatic, hilarious parallel to my real life. Back then, this television-aholic was just a college student who worked part-time at a hospital and fantasized about some of the more attractive doctors who offered me, a lowly clerk in medical records, more than a perfunctory smile. Of course, the men on "Grey's Anatomy" are hotter than all of the doctors in said hospital combined and the drama is juicier than a Georgia peach. 
My love affair with "Grey's Anatomy" has been a tumultuous one over the years.  I broke up with the show after they graphically and needlessly killed my favorite character, Dr. George O'Malley (actor T.R. Knight voiced his concerns over his lack of airtime and asked to leave) in a disfiguring bus crash.  But somehow, after Izzie left Alex in a heartsick lurch (another extremely publicized exit from Emmy-winner Katherine Heigl), I checked back into Seattle Grace.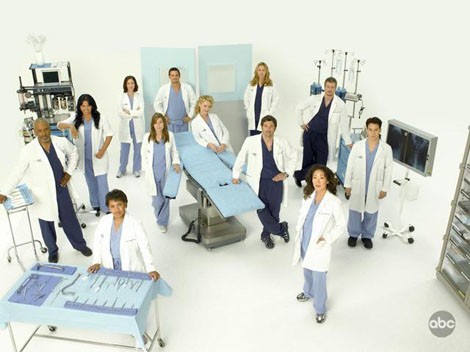 The seventh season of this sudsy medical drama debuted with a bang and went out with a whimper.  While I'm thankful for the surgeons and patients of Seattle Grace, after enduring the powerful and gruesome hospital shooting, that there was no tragedy for tragedy's sake, I found the bloodshed-free season finale was, at times, as exciting as observing a coma patient. 
Here's where we left off:  Dr. Richard Webber (acting veteran James Pickens Jr.) and Dr. Owen Hunt (Kevin McKidd) investigated Alex's accusations that Meredith had tampered with the Alzheimer's drug trial overseen by her husband, Dr. Derek Shepherd, thus threatening the reputation of the hospital, her marriage, and both of their careers in with an unsealing of an envelope. Meredith, played with gritty dysfunction by Ellen Pompeo, is no stranger to making unethical decisions for virtuous reasons, had indeed switched paperwork to ensure that Dr. Webber's wife (the divine Loretta Devine) received the experimental medication instead of the placebo.  She was also granted temporary custody of orphaned baby Zola that she and Derek wished to adopt.
In a more compelling arc of the finale, Cristina Yang (the always fabulous, Emmy-nominated Sandra Oh) discovered she was pregnant, and her husband, Owen kicked her out after she told him she planned to abort the child.  Also, the mostly useless Dr. Teddy Altman (Kim Raver) finally discovered that she loved Henry, her husband of convenience, (Felicity's Scott Foley).  The two, who only wed because an ailing Henry needed her fantastic medical insurance, wistfully connected over a string of bad dates and delicious food in my favorite episode of the seventh season, "It's A Long Way Back." 
Here are my wishes for the upcoming season of Grey's Anatomy: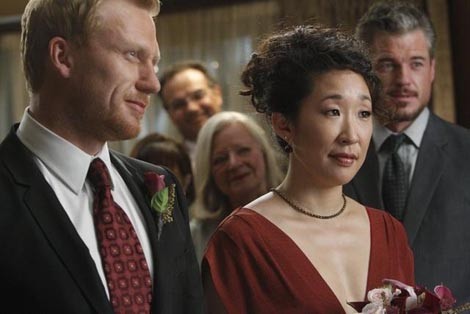 Cristina has the baby.  Anyone who has watched an episode of "16 and Pregnant," (or actually has children) can understand the minefield of gray that comes with unplanned pregnancies.  Fathers have rights, but mothers have more.  So the development that Cristina is pregnant with a child she doesn't want, but her husband desperately does is a messy, controversial, and beautiful plot that is classic "Grey's Anatomy."  This was the one storyline that twisted, tugged and friggin' yanked at my heartstrings because there is no easy or right answer to the big-T tough questions.  Should a woman be forced to carry and deliver a child she doesn't want when her partner does? 
This isn't about politics, it's about the life-altering decisions of one family.  I hope that Cristina (who suffered an ectopic pregnancy in season two) decides to have the baby, because as clinical and cold-hearted as she can be, she is capable of profound love, and does have a huge heart, and no, I'm not talking about the one with atriums, ventricles and an aorta.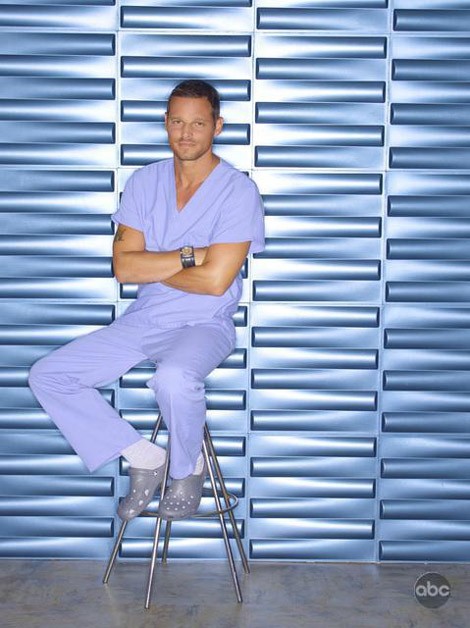 Alex finds some happiness.  Justin Chambers has been devastatingly brilliant in his portrayal of the prickly douchebag with a troubled past for seven seasons and counting.  Whenever he does manage to let go of his icy, womanizing paranoia and fall in love, he gets gut-checked by a crazy crash victim, a wife stricken with a fatal and rare form of cancer, and a woman who flees town to become a Charlie's Angel (Rachael Taylor, now cast in the new ABC series).  Now, that Alex has ruined Meredith's career in a moment of drunken bitterness, he will probably become the hospital pariah.  It's a long-shot, but I hope that Alex can overcome his demons and find some happiness—well a surly, smart-assed, debaucherous, Karev-equse form of happiness.  Whether it be in a flock of new interns to bed, a new hottie to heal his shattered heart or fulfillment in his career.  I'm rooting for him even if no one else is.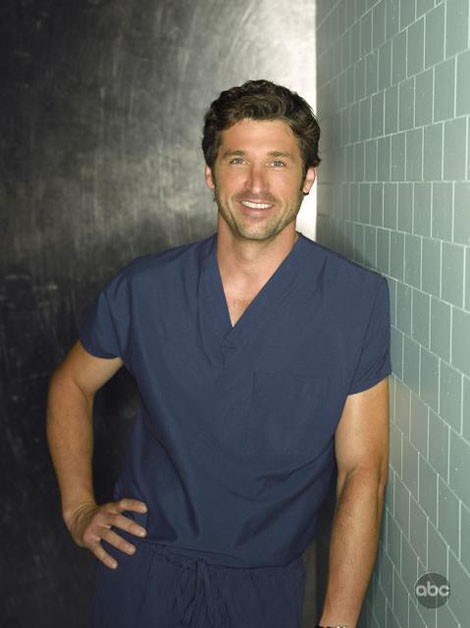 Derek has some drama of his own.  Patrick Dempsey has a phenomenal head of hair, the perfect peppering of stubble and voice more soothing than a white-noise machine.  He's been dubbed McDreamy by his now-legal wife and Grey's fans alike, so I hate to confess that I find him dreadfully boring. Seriously?!  Seriously.
In the finale, Derek left Meredith's house to go sleep in the sparse framework of their dream house (because apparently world-class neurosurgeons can't afford hotel rooms) while Meredith was took home their adoptive daughter for the first time. 
I don't buy into the jeopardy that their marriage is supposedly in.  As much as my inner hopeless romantic would like Derek to find the selflessness of Meredith's actions, forgive her and return home for Zola's sake like any gallant Prince Charming would, my inner television-aholic wants Derek to outrageously react from the pain of Mrs. McDreamy's betrayal.  Honestly, Dempsey hasn't had much of his own drama during Grey's run: he drove recklessly after being shot in the chest and he spiraled a bit after a patient died because of his actions, but he hasn't been completely pushed off the rails like his other colleagues.  It's time for him to metaphorically cut a few LVAD wires.  I wish Dr. Shepherd's pristine reputation sullied, his confidence as a doctor and a husband shaken and his perfectly hair an unconditioned mess.  What's more compelling than a physician who can't solve his own problems?  And what's better than a capable actor diving headfirst into dark and twisty territory?  Absolutely nothing.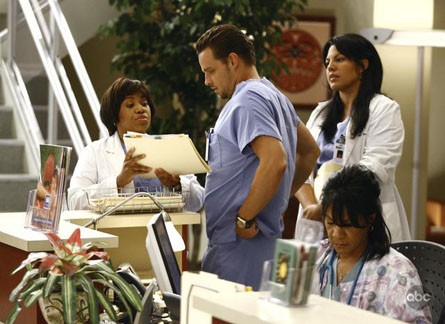 Wrap up the series.  TVline.com has reported that Grey's staples, Patrick Dempsey, Ellen Pompeo Sandra Oh, and Justin Chambers' contracts will expire at the end of this season and that the show will continue through season nine regardless of who decides not to return.  For any television show reaching an eighth season is a milestone.  I'd rather that "Grey's Anatomy" go out with a dramatic, clever and strategically planned ending and not linger into the pathetic twilight of clichés, jumping the shark (not that it already hasn't happened with epically awful "Ghost of Denny Doquette" in season five, but they have artistically rebounded) and a network cancellation like "Desperate Housewives," another once-great ABC show that, according to EW.com, recently got the unceremonious axe.  Therefore, my bittersweet wish for "Grey's Anatomy" is that they begin to make arrangements for the end. 
Find out if my wishes come true when "Grey's Anatomy" returns on Sept. 22. 
With the new shows starting in a month (!!!) or less, I'm afraid this will be the last of my "Wishes' column.  It has been a pleasure sharing my television wishes with you, and it will be so much fun to see what really happens during premiere week!  
If you can't wait for the premiere, check out this exclusive "Grey's Anatomy" clip!