'Winter's Tale' Review: A Mess Of A Romantic Fantasy That Simply Doesn't Work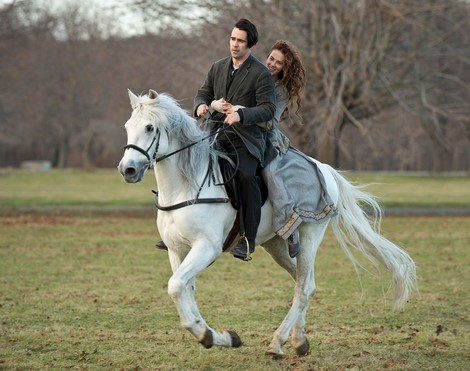 There are so many things I want to say about this film and unfortunately, none of them are good.
'Winter's Tale' written and directed by Akiva Goldsman ('A Beautiful Mind') is based on the 800 page novel written by Mark Helprin that was published in 1983.
The book is brilliant...The film is NOT.
In fact, 'Winter's Tale' is a mess. This is Goldman's first attempt at directing and he really should stick to writing. The movie stars Colin Farrell who plays master thief, Peter Lake. We first meet him briefly in New York City in 2014.
We then flashback to 1895 where we find Baby Peter being put in a toy boat, called City of Justice - headed to New York Harbor, by his immigrant parents, who due to illness have to return to Europe.
Next we flash forward to 1918, where Peter is all grown up and on the run, from from his one time mentor, Pearly Soames (Russell Crowe). Oh, I should mention that Pearly is a DEMON. That's right folks, a full-fledged demon who apparently is very hurt that Peter doesn't want to be part of his gang anymore. I had no idea a demon could be so sensitive.
Anyhow, Peter gets cornered by Pearcy, a magical white horse with wings appears and whisks him off to safety. But instead of riding out of town, Peter decides to rob one more house.
The house he chooses belongs to the beautiful Beverly Penn (Jessica Brown Findlay) who happens to be dying of consumption. Instead of robbing the house, Peter winds up having tea with the lovely lady; this being a love story, he falls deeply in love with Miss Penn.
How deeply you ask? Well it enables him to time travel, among other things. 
What else can I say, except Will Smith plays Lucifer and has very pointy teeth. 
I gave 'Winter's Tale' which opens in theaters on Valentine's Day, February 14, 2014, only two dry bagels out of 5.  If John saw it, he would give it a half.
Check out our video for more of my thoughts and of course to see the magical Mango.
Please SUBSCRIBE to our channel on YouTube and LIKE us on our Two Jews on Film Facebook page.