Wilson Phillips To Record New Album Via Reality TV Series, Debuting Tonight On TV Guide Network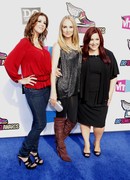 Girl group Wilson Phillips' new TV series will follow the trio as it records tracks first recorded by The Beach Boys and the Mamas and the Papas for a new album.

The bandmates' parents - Brian Wilson and John and Michelle Phillips, fronted the two bands and now their kids are paying tribute to the pop classics they recorded in the 1960s and 1970s.

And their efforts will feature in new reality TV series Wilson Phillips: Still Holding On, which debuts on Sunday night at 9:00 (EST) on the TV Guide Network.

Band member Carnie Wilson insists the show will make for great TV viewing: "It's not like, 'We've been friends forever; everything is great'. It's more like, 'You're in a bad mood; you're flaky,' and it's all real."

Bandmate Chynna Phillips adds, "I'm excited and also scared for people to see it. We fight like sisters and we have our disagreements and have to battle through that like any other relationship. I think people will identify with that and I'm glad they'll will get a window into what it's really like to be in a group and to know someone for 43 years."