Wilson, Brody And Schwartzman Star In 'The Darjeeling Limited,' On DVD Feb. 26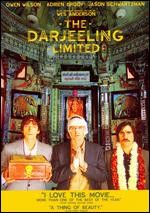 A magical train ride through India brings three brothers closer together despite their family baggage in
The Darjeeling Limited
, a powerful story of self-discovery debuting on DVD February 26 from Fox Home Entertainment.
Featuring an amazingly talented cast including
Owen Wilson
(
You, Me and Dupree
,
Wedding Crashers
) Academy Award® winner
Adrien Brody
(
The Pianist
), and
Jason Schwartzman
(
Marie Antoinette
,
Shopgirl
) as estranged brothers who plan a trip through India to rediscover their familial bond a year after their father's death. A comedic series of unexpected twists and turns involving over-the-counter painkillers, Indian cough syrup and one poisonous snake leave them stranded in uncharted territory.
The Darjeeling Limited
beautifully encompasses the gift of brotherly love discovered during an unexpected "spiritual" journey. "An extraordinary movie, filled with splendor, laughter and a touch of cosmic wisdom," (
LA Daily News
) the film displays a ridiculously entertaining blend of comedy and drama. Co-written and directed by innovative filmmaker
Wes Anderson
(
The Royal Tenenbaums
,
Rushmore
) The Darjeeling Limited opened the 45th New York Film Festival and was an official selection of the 2007 Venice Film Festival The cast also features Academy Award®-winner
Anjelica Huston
(
Prizzi's Honor
), a cameo from
Bill Murray
(
Lost In Translation
) as well as a special performance by Oscar®-nominee
Natalie Portman
(
Closer
) in the film's featurette "Hotel Chevalier."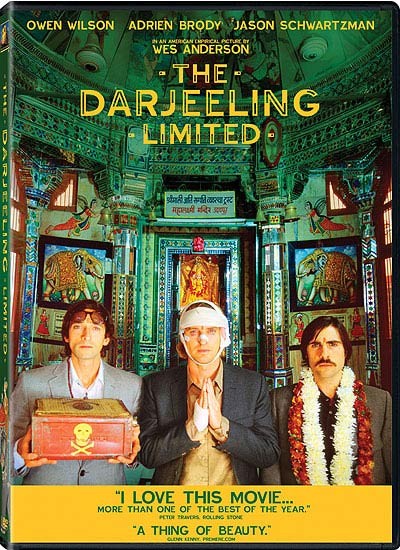 Three American brothers who have not spoken to one another in a year set off on a train voyage across India with a plan to find themselves and bond with each other – to become brothers again like they used to be. Their "spiritual quest" however, veers rapidly off-course and they eventually find themselves stranded alone in the middle of the desert with eleven suitcases, a printer and a laminating machine. At this moment, a new, unplanned journey suddenly begins.
The Darjeeling Limited is presented in widescreen (1.35:1 aspect ratio) and pan & scan versions with English, French and Spanish subtitles. Bonus content includes:
- Featurette – "Hotel Chevalier"
- Featurettes
Enter here for your chance to win one of four copies of "The Darjeeling Limited" on DVD!
A recognized global industry leader, Twentieth Century Fox Home Entertainment LLC (TCFHE) is the worldwide marketing, sales and distribution company for all Fox film and television programming on VHS, DVD and Blu-ray Disc (BD) as well as acquisitions and original productions. The company also releases all products around the globe for MGM Home Entertainment. Each year TCFHE introduces hundreds of new and newly enhanced products, which it services to retail outlets -- from mass merchants and warehouse clubs to specialty stores and e-commerce - throughout the world. Twentieth Century Fox Home Entertainment LLC is a subsidiary of Twentieth Century Fox Film Corporation, a News Corporation company.