Willow Smith's Twitter Account Hacked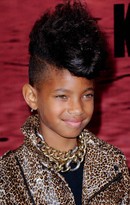 Child star Willow Smith was left fuming on Sunday after hackers targeted her Twitter.com page.

The pop star daughter of actor Will Smith discovered an impostor had posted a bizarre message about a weight loss supplement from her account, and she immediately warned her followers about the internet prankster.

In a series of posts on her page, she writes, "U (sic) guys... I think I got hacked... I did not Tweet about the weight loss supplement... I don't know what's happening!"

Smith has already taken measures to avoid the same thing happening again, adding, "New password! No hackers!"