William Shatner 'Stunned & Excited' With Live Audience And Technology While Taping ' $#*! My Dad Says'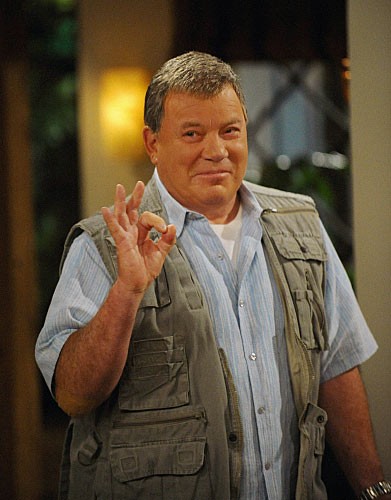 William Shatner stars in the first show ever spun off from a Twitter feed. $#*! My Dad Says (called Shit My Dad Says), is based on Justin Halpern's posts about his father's witticisms. Shatner plays the Dad in the new sitcom. This is beyond Star Trek. The crew of the Enterprise wouldn't even believe how far technology and entertainment have come. 
"I started in live television," Shatner said. "I was there when the cameras were as big as this table had internal fans that were whirring because of the heat of the tubes and had to come as close as this for a close up. Now we're talking about green screen and putting us on locations we'll never visit, unfortunately. We can put us in Paris on this show and never leave the warmth of Warner Bros. It is beyond irony. It is trying to catch the tiger by the tail. The miracle is our inventiveness and the tragedy of our lives is the inventiveness. It's beyond irony. It's whatever term you guys can come up with."
After such a long, established career in TV drama, the new show is Shatner's first sitcom. "You cannot begin to imagine the shock I had when I came down on that floor for the first time. First of all, there's this whole thing about playing sitcom comedy. A lot of people, writers, directors and actors, have got into a sitcom thing. I didn't want to do the sitcom thing but I didn't know what else to do. So I was starting low and slow and not enough of that comedic energy but you don't want to do too much. I went slowly through the week of rehearsals. Then we got on the floor with the cameras which I'm used to from my live TV days."
The night of the actual taping, nothing could have prepared Shatner for the energy of a live crowd. "Then came camera day with the audience. There's the cameras and 200 people wandering around: agents, actors, mothers in law, party, eating pizza. We're doing the circus up here. It was stunning. The fourth wall was totally gone. I'm talking to the audience. We now correct lines, the writers come up with other lines to try and the audience is aware of the process. I've got to learn the other line, I've got to say it a couple of times, everybody laughs. It was exciting, chaotic, totally stunning. I've never experienced that before as an actor. I was part minstrel, part actor."
$#*! My Dad Says is coming this fall to CBS.